Institutional Insights ~ Bear Market Outlook
Malcolm Kazal, Institutional Sales, discusses the
contributing factors to the emergence of the current bear market and what this means for investors.
Share markets globally have largely fallen again with consistent worries about monetary policy tightening, however this attempt to combat increasingly high inflation is driving a possible recession.
The Australian market is usually largely protected due to its heavy positioning on resources but has been dragged down as global markets plummeted.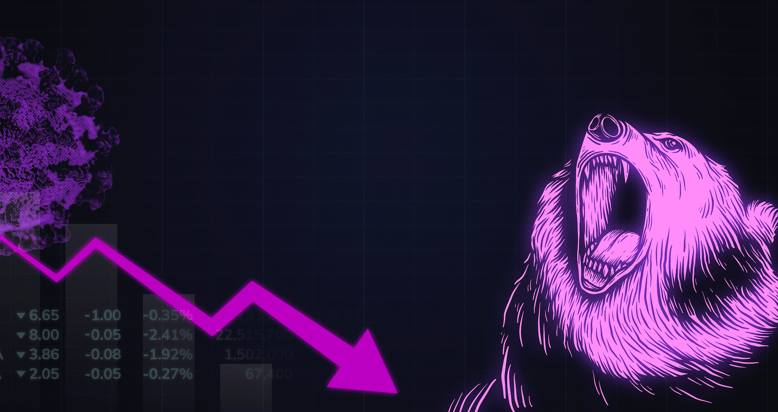 Globally, bond yields have retreated from their highs as we see a similar trend with the prices of oil, iron ore and metals.
Investors often see equity markets as long-duration assets with real yields affecting stock market valuations. The more growth-oriented equity markets are, the more they will be affected by interest rates, thus, as real yields move higher, we will see more pressure on equity markets.
The major question for investors and managers alike is whether we see a recession that is concomitant with this market pullback and whether we will see this recession in the next 6-9 months. Equity market pullbacks that aren't followed by a recession tend to be much shallower and shorter in duration.
The market has begun to rapidly price in the impact of the monetary policy quantitative tightening, synonymous with the Federal Reserve balance sheet beginning to contract. However, at this current pace, it will still take 4-5 years of liquidity draining for all the created liquidity to dissipate as the Fed balance sheet is reduced.
If the COVID-forced disruptions to the Chinese economy and the Ukrainian conflict continue, a smooth transition becomes much more difficult to achieve, and vice-versa.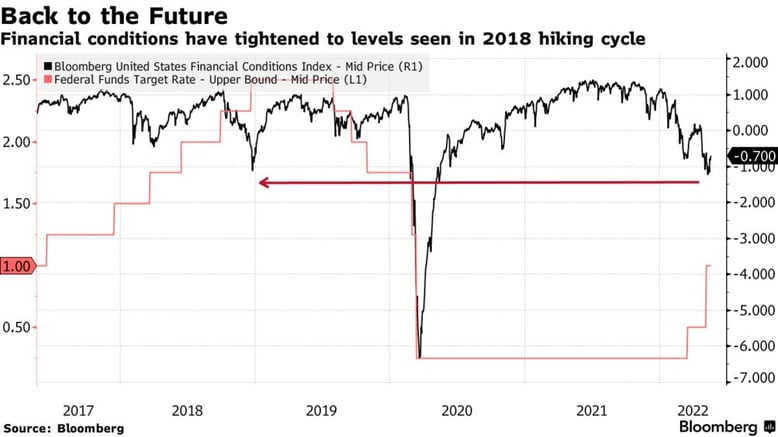 Source: Bloomberg
Since the turn of the year, the sell off in the market represents a growing concern that an optimistic outcome is unlikely and the economy should prepare for an outright recession, with or without inflation. Recent Chinese data shows that both consumer and industrial sectors are contracting as the economy deals with the COVID shutdowns, suggesting that a recession is becoming more likely. A shrinking Chinese economy would create deflationary pressure on the rest of the world.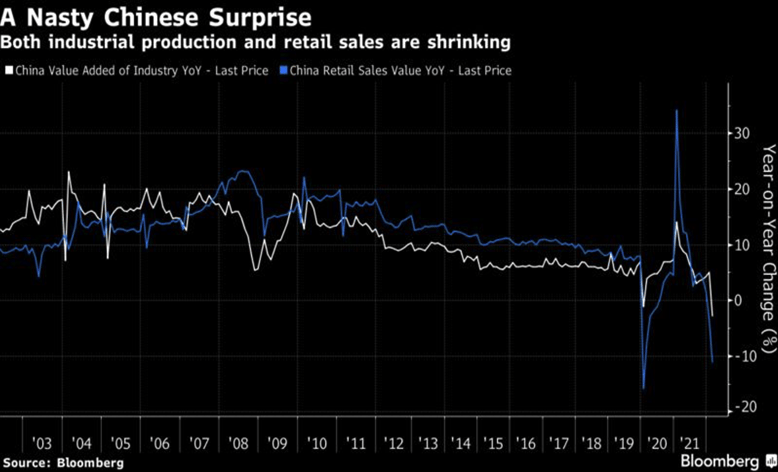 Source: Bloomberg
With risk assets falling, there have been a number of arguments that suggest markets rally stronger within a bear market but long term assets positioning will come down to the influences of economic growth, inflation and interest rates.
We are likely to face three impending scenarios:
1) The Federal Reserves stop markets from falling into a recession.
The Federal Reserves around the world are successful in controlling inflation much quicker than anticipated. They are successful in mitigating aggressive interest rate increases which many financial markets now fear and still slowing growth dramatically but stopping markets from falling into a recession.
2) Recession style scenario.
The Fed's monetary tightening squeezes the economy rapidly even as it brings inflation under control. As a result, rates do not rise as much as expected, forcing central banks to pivot yet again and begin easing, leading to a recession style scenario.
3) Stagflation.
Despite the Central Banks' best efforts, inflation continues to increase meaning the subsequent rise in interest rates. Inflation in conjunction with higher interest rates erodes demand, potentially causing the economy to sink.
If we are doomed to stagflation, commodity prices will continue to rise. In that case, one of the most effective ways to profit is to use the currencies of Australia and Canada, two well-run economies with an abundance of raw materials. During the previous commodity bull market, the US dollar lost a lot of ground to both economies; this time, neither currency has risen as much as expected with the rise in material prices. Currency has the advantage of being a zero-sum game, appearing to be a relatively simple way to avoid stagflation.
---
Summary
The outlook of the RBA's latest board meeting is assumed to be hawkish, bolstering expectations for more rate hikes to control inflation. Due to the obvious tight labour market, wage growth in the March quarter is anticipated to spur to 0.8 per cent QoQ, the fastest rise since 2014, helping to bring annual wage growth to 2.5 per cent. The April jobs report suggested a 20,000 increase in employment, with unemployment falling slightly to 3.9 per cent, its lowest level since 1974.
With global markets continuing to slump, the current risk-off perspective has set in. Markets have wasted away gains made earlier this month with fears of an economic downturn increasing. US inflation is the main cause of concern right now as last Tuesday Jerome Powell said that the US central bank will continue to raise interest rates until there is "clear and convincing" evidence that inflation is retreating.
The Fed's last minutes now seem to show the need to raise interest rates more rapidly and aggressively than anticipated to tackle the burgeoning inflation problem. Not only will the Fed likely increase borrowing rates by 50 points, but it's also anticipated that similar rate hikes will happen over the next 6-8 months. This will create flow on effects for all other Global reserve banks.
Where to from here?
Trading equities is all about having access to the right investment opportunities and making decisions based on accurate, unbiased information. Often, this means hours of research on a daily basis, keeping up with several ASX announcements, understanding economy-impacting events and regularly consuming broader news updates. If you're not an equities trader by profession, then it can quickly become rather overwhelming, especially once you have built a considerable-sized investment portfolio.
Our Equities Trading team, backed by our independent research department is the ideal solution for said situation. Our clients receive access to exclusive investment opportunities, daily ASX research reports, our expert weekly outlook on the Australian markets and direct access to our equity traders.
Trading with Barclay Pearce Capital is about building long-term returns, trust, confidence and a mutually beneficial relationship.

Chief Investment Officer

Director of Trading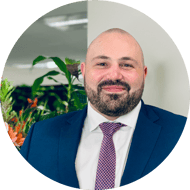 Trading with Barclay Pearce Capital ensures the needs of investors of all magnitudes are met by our highly skilled and attentive trading professionals.
~ Trent Primmer, Director of Trading, Barclay Pearce Capital.