Institutional Insights ~ How markets respond to major geopolitical events
Our Equities Trader, Malcolm Kazal, discusses the effects of major geopolitical events from an institutional perspective.
As the war in Ukraine wages on, the world nervously sits in anticipation of an urgent resolution. All eyes will be on the markets and associated economic impacts are yet to be seen. Security experts have been weighing in, and it is assumed that past wars didn't push equities lower in the long term. However, only time will tell.
LPL Financial research notes that stocks have largely shrugged off past geopolitical conflicts.
Referring to the January 2020 U.S. airstrike that killed Iranian General Qasem Soleimani, LPL Financial Chief Investment Strategist, John Lynch says:
"As serious as this escalation is, previous experiences have indicated it may be unlikely to have a material impact on U.S. economic fundamentals or corporate profits.
We would not be sellers of stocks into weakness related to this event, given stocks have weathered heightened geopolitical tensions in the past."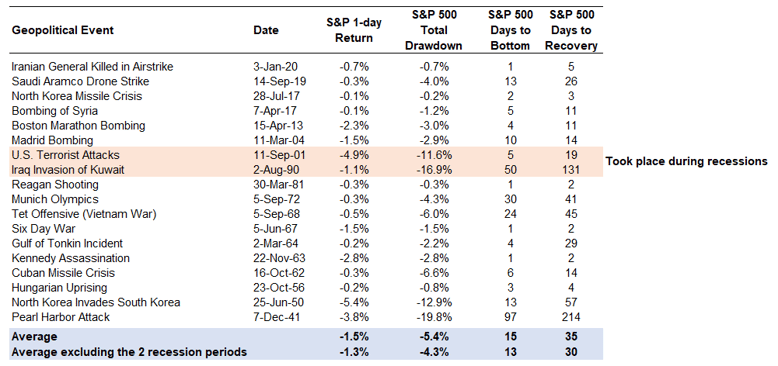 Source: Bloomberg Intelligence
---
What does history tell us?
On average, initial shocks from geopolitical events don't seem to affect markets in the short term, a period of 15 days. Bloomberg collated data from 18 geopolitical events since 1940, which led to S&P 500 declines, provided in the above table. On average, the total drawdowns from these events was -5.4%, taking approximately 15 days for the S&P 500 to bottom.
The other key take away from the table above is that the biggest drawdowns in S&P 500 took place during the U.S. Terrorist Attacks, the Iraq Invasion of Kuwait, North Korea Invades South Korea and Pearl Harbor Attack, all resulting in the U.S. going to war. With the U.S. just coming out of the Afghanistan debacle, we do not believe they have the appetite for another drawn-out war, especially after the economic constraints that Covid-19 has placed on the economy. Further, from our understanding, U.S. President Joe Biden has ruled out sending troops to Ukraine, with military funding aid being proposed.
All else being equal, the market should recover sooner than later after the initial shock. Overnight, all three U.S. indices; Dow Jones (+0.3%), S&P 500 (+1.5%) and NASDAQ Composite (+3.3%), closed higher on Friday, 25th of February despite the invasion. Mind you, the early trading of all indices saw very steep losses, but investors over the trading day took the position that the Russia/Ukraine conflict will be brief. There was also a big support for mega tech stocks, which probably drove the market higher.
---
What does this mean for the U.S Fed tightening cycle?
The war in Ukraine has created a less than ideal environment, prompting the U.S Fed to raise rates. The U.S Federal Reserve will still lift rates given the recent inflation numbers in the U.S.
With the ongoing issue in Ukraine likely driving energy prices higher, Goldman Sachs energy analyst recently stated:
"Stay with energy as Brent oil on track to hit $125USD per barrel."
This means a key contributor to the CPI number is likely to get worse or remain elevated in the short term. Interestingly overnight, U.S. Fed officials have signalled as much, with some noting that the rate hike remains on track despite the Russia/Ukraine issue.
---
Rising USD is a problem for the rest of the world
The U.S. dollar (USD) was higher overnight following the Russia/Ukraine news, given its safe-haven label. On the other hand, the Euro is much weaker over the past 3 days. As we previously noted, the USD is a countercyclical currency, and a high USD is typically not positive for ex-U.S. equities.
The recent increase in USD is likely tightening financial conditions around the globe already (key global commodities, contracts and debt servicing/couples are priced in USD).

"
We could see a rising USD slowing global growth in the interim, further to that it may be possible that the IMF downgrade their global growth guidance this year as there is sure to be ramifications for global growth from the Ukraine/Russia war.

"

Malcolm Kazal, Equities Trader, Barclay Pearce Capital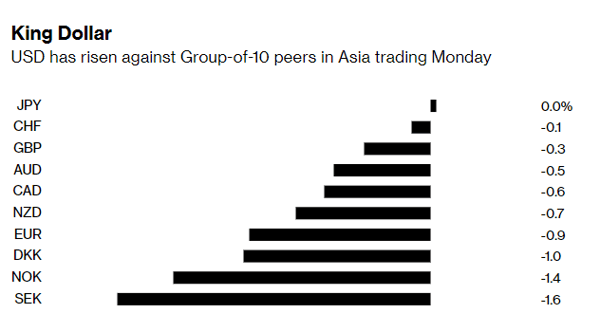 Source: Bloomberg
---
Rising oil prices are a concern for the broader market
Unsurprisingly, oil prices jumped with the Russia/Ukraine conflict news but have settled lower. You can see in the chart below the WTI oil price breached the $100/bbl level. With this war being prolonged, oil should continue to surge.
Famed oil trader, Pierre Andurand, suggests there is room to sanction some Russian oil exports and economies can tolerate prices over $100 a barrel. Andurand believes the oil market is moving not only because of the Russian invasion. He estimates the market would lose 3 million barrels per day of crude if Russian oil exports were sanctioned, assuming that China would take on an additional 1 million barrels per day. Interestingly to note, the U.S and its allies are discussing a coordinated release of around 60 million barrels of oil from their emergency stockpiles after crude prices surged above $100USD. OPEC+ meeting is today, Wednesday 2nd March 2022, and we will be paying close attention.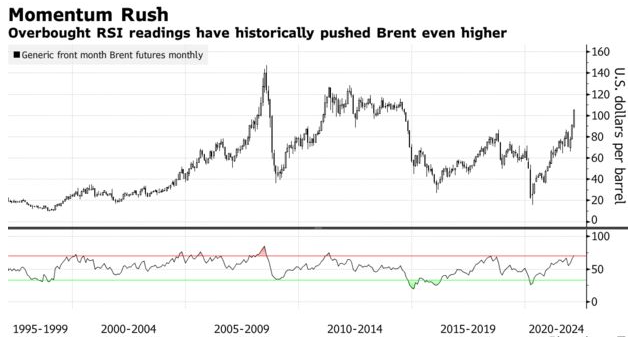 Source: Bloomberg
Russia is one of the largest players in the northern hemisphere, with the greatest abundance of natural resources of any landmass. Most of Europe and the world has become increasingly reliant on what it supplies.
---
List of resources
Natural gas
Russia is the largest exporter of natural gas in the world, with most of it going to Europe, and it is a large exporter of oil.
Fertilisers
Russia is the largest exporter of nitrogen and potash-based fertilisers. Fertiliser prices are already 6-7x higher than a year ago.
Wheat
Russia is a top 3 wheat exporter. With Ukraine also being a large exporter, together the nations account for about 30% of global wheat exports. Knocking these two suppliers out of the market could cause wheat prices to triple. They have already risen by 20% this month
Iron Products
Russia is the largest exporter of low-quality and semi finished iron products.
Nickel Products
Russia is the largest exporter of nickel products, courtesy of the incredible Norilsk orebodies, which also make it a top-three supplier of PGMs - platinum, palladium.
---
Summary
We now have an idea of what Russia is planning in the short term, complete control of Ukraine and installing a puppet dictatorship. The duration of this war is unknown at this stage, as a surprising resistance is being mounted by Ukraine. The intensity of the battle across the country will be essential as the destruction of a country Russia wants to control would not make sense. Australia could be uniquely positioned to capitalise on any world shortages through stepping up supply and deliveries on the large list of commodities at play here.
Where to from here?
Trading equities is all about having access to the right investment opportunities and making decisions based on accurate, unbiased information. Often, this means hours of research on a daily basis, keeping up with several ASX announcements, understanding economy-impacting events and regularly consuming broader news updates. If you're not an equities trader by profession, then it can quickly become rather overwhelming, especially once you have built a considerable-sized investment portfolio.
Our Equities Trading team, backed by our independent research department is the ideal solution for said situation. Our clients receive access to exclusive investment opportunities, daily ASX research reports, our expert weekly outlook on the Australian markets and direct access to our equity traders.
Trading with Barclay Pearce Capital is about building long-term returns, trust, confidence and a mutually beneficial relationship.

Chief Investment Officer

Director of Trading

Equities Trader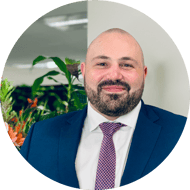 Trading with Barclay Pearce Capital ensures the needs of investors of all magnitudes are met by our highly skilled and attentive trading professionals.
~ Trent Primmer, Director of Trading, Barclay Pearce Capital.