Institutional Insights ~ M&A
Our Equities Trader, Malcolm Kazal, discusses the current M&A climate from an institutional perspective.
---
Is this Current M&A Climate set to continue thriving?
As the global economy was crippled by Covid-19 for the majority of last year, most people would not have been able to foresee the following swarm of M&A activity that came afterwards.
Now into the latter end of 2021 Global M&A activity has well-breached record-setting highs now starting to build on the record-breaking highs set at the beginning of the year, which has been largely shaped by markets at all-time highs and low-interest rates. According to Bloomberg total value of the completed transaction in 2021 has surpassed $3.5T, currently on track to surpass 2020 $3.59T.
Goldman Sachs data from January to June 2021 saw the ten-year average of M&A announced globally doubled. Year to date has seen US account for $2.14 trillion M&A transactions, whilst Europe gathered in $657billion and Asia raking in $620bn. Impending tax increases on capital transactions have encouraged further M&A activity in the US. Across the board globally it has been dealmaking from large buyout firms which have built up sustained levels of cash which will M&A volumes further bolster M&A volumes in the near term. Bloomberg data suggest there is nearly $2 trillion in the amount of cash on balance sheets in the S&P 500. Moving into the post-pandemic world we are sure to see well-positioned organizations increasingly interested in potential M&A options.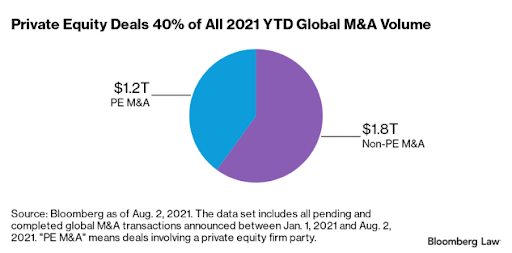 Kevin Brunner Co-head of Global M&A at Bank of America reported Bloomberg
"The focus of corporate boards regarding the acceleration of strategic transformation required in a post-pandemic world continues to drive M&A, in particular in the technology, media, and health-care sectors.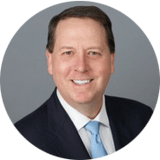 "Cross–border M&A deal count increased significantly in 2021 driven by a global re-openings as well as reduced economic and geopolitical concerns."
Kevin Brunner, Co-head of Global M&A at Bank of America
The renewable energy sector has already seen to have raked in $18billion of M&A transactions, already more than double the M&A volume that was generated in the previous year.
---
Looking Domestically
So far this year we have seen an abundance of deals announced with almost $150 billion in both public and private deals in Australia and NZ alone. It is safe to say this is supported by low-interest rates. Many companies' balance sheets were strengthened through capital raisings during Covid -19, federal stimulus, and general economic recovery as the Vaccine rollout continues.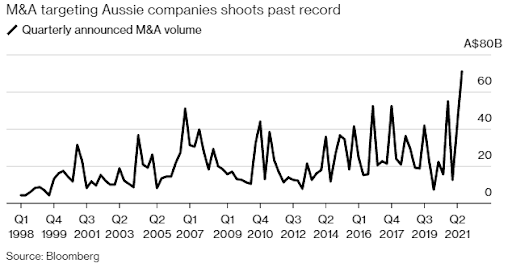 This must be taken into consideration with the large pent-up deal flow demand from the majority of 2020. Re-emerging opportunities are starting to be considered by some of the sectors heavily gripped by Covid -19.
Disruptive Technologies has seen the race for innovation and scalability in the tech industry has seen super deals such as AFR reported :
"$US20 billion acquisition of AI and speech recognition platform Nuance Corporation by Microsoft, giving Microsoft a large footprint in healthcare tech;
$US15 billion acquisition of contact-centre tech provider Five9 by Zoom, enhancing Zoom's platform and providing access to the global contact centre market;
$US28 billion acquisition of Slack by Salesforce, helping Salesforce diversify and compete with powerhouse Microsoft;
Closer to home, Square's $US29 billion acquisition of Afterpay – bolstering Square's e-commerce firepower and driving long-term growth."
Renewable energy transition and ESG have also been a core focus for investors as well as a key component of recent deal activity. Most recently to note BHP's exit strategy out of its coal-based assets and both AGL demerger out of the power generation business.
Malcolm Kazal, Equities Trader
Infrastructure and communications are still fundamentally affected by M&A activity, seen by deals including:
$US100+ billion merger between two Chinese infrastructure companies, Sichuan Railway Investment Group and Sichuan Transportation Investment Group;

$22.8 billion proposals by a consortium of infrastructure investors to acquire Sydney Airport, a proposal that to date has been rejected by the target as undervaluing the pandemic impacted business.
Continued faith in renewed rebound driven by consumer/ business confidence coupled with government stimulus globally and the hope for successful vaccination rollouts have been seen to have convinced executives that "asset price will continue to rise", reports Morgan Stanley.
Richard Wagner Morgan Stanely CEO said recently that:

"With this conviction comes an urgency to deploy capital and take action upon opportunities now...We see no sign of activity slowing down."
Richard Wagner, CEO of Morgan Stanley
With well over half the year gone, we have seen $90 billion in deals aimed at Australian assets, Bloomberg data suggest. 2021 most likely to surpass 2015's record of $93 Billion.
---
Listed companies that present potential M&A activity opportunities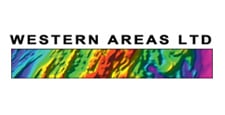 IGO Group looking to add Nickel miner Western Areas which be the missing piece to further justify their construction of a $530m battery nickel plant in Western Australia. invest big on Nickel to consolidate themselves amidst the Ev revolution. Mr Bradford from the IGO group commented that "We are looking for 10 years of supply" this statement further highlights investment into the nickel sulphate plant and further raises the potential of the merger.

Last month saw A2 milk shares rocket following potential takeover interest from the report that suggested Swiss Powerhouse Nestle probing a takeover both companies declined for comment since. Nestle is the world's largest formula maker. In 2019 they launched A2 only full cream milk powder for infants and pregnant mothers. The prior year Nestle launched their own brand of A2 milk in Australia and New Zealand directly challenging a2 milk stronghold in the market.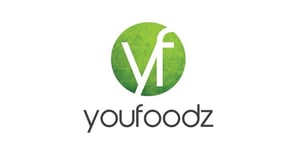 HelloFresh meal kit company has agreed to acquire ready-to-eat meal manufacturer YouFoodz for $125m. YouFoodz distributes fresh-ready meals through both Dhome delivery (D2C) and retail (B2B). This Transaction which is a customary condition by shareholders and court approval is estimated to be finalized by October 2021.
---
Summary
Economies around the world are positioning themselves to return to normality as they all navigate the challenges that delta brings. We have seen significant corporate action activity this year and expect to see a sustained increase for the foreseeable future. We will be looking at the following sectors for key M&A activity Renewables Energy, BNPL space, together with Technology and financial sector.
Where to from here?
Trading equities is all about having access to the right investment opportunities and making decisions based on accurate, unbiased information. Often, this means hours of research on a daily basis, keeping up with several ASX announcements, understanding economy-impacting events and regularly consuming broader news updates. If you're not an equities trader by profession, then it can quickly become rather overwhelming, especially once you have built a considerable-sized investment portfolio.
Our Equities Trading team, backed by our independent research department is the ideal solution for said situation. Our clients receive access to exclusive investment opportunities, daily ASX research reports, our expert weekly outlook on the Australian markets and direct access to our equity traders.
Trading with Barclay Pearce Capital is about building long-term returns, trust, confidence and a mutually beneficial relationship.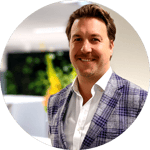 Chief Investment Officer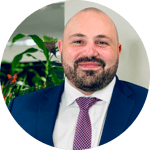 Director of Trading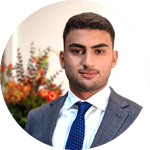 Equities Trader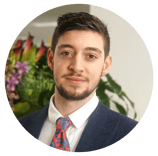 Equities Trader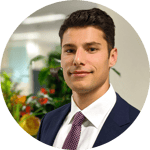 Equities Trader

Equities Trader