Jason Lal's Insto Insights - Opportunities to buy the dips
Every week we publish a collection of investment opportunities for our clients and give our expert opinion about the Equity Markets.
---
Our Head of Institutional Sales, Jason Lal, brings his Insto Insights.
Today we are discussing the economic backdrop based on Trent Primmer's live conversation with ausbiz.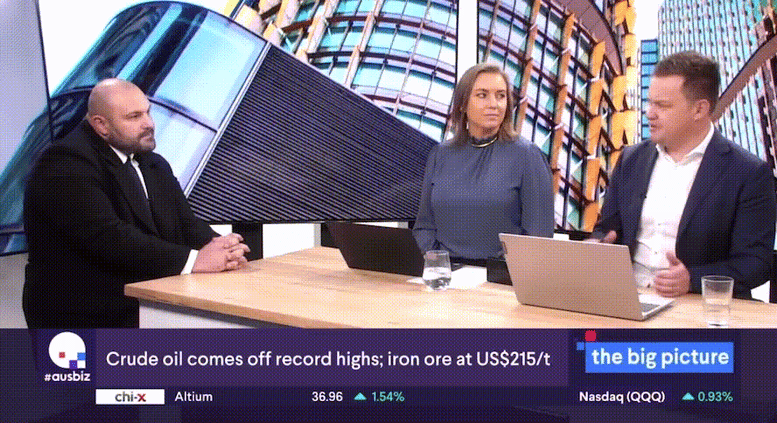 Trent Primmer, our Head of Trading spoke to ausbiz live discussing a variety of macroeconomic themes including the price action for iron ore, oil, gold, and copper.
Given the market's selloff, overreaction and subsequent rebound after last week's surprising hawkish news from The Fed, we thought it would be worth looking at the next key catalyst which could see global markets tilt "Tapering".
Last week saw stocks and bonds fall after Federal Reserve officials signalled they'll begin dialling back the stimulus in the form of interest rates that have helped fuel the recovery from the pandemic. Federal Reserve forecast inflation to climb to 3.4 per cent this year, higher than previous forecasts, and projected for the first time that there could be two interest rate hikes in 2023. As recently as March, the Fed predicted inflation would be just 2.4 per cent for this year and didn't project an initial rate hike until 2024.
On the Tapering front, there has not been any indication from the Fed as to when they will initiate Tapering, but the market seems to be looking forward to the September meeting in Jackson Hole as the likely date for Tapering to be tabled.
I came across this
Reuters article
and looked back at the charts for 2013 when Tapering was first mentioned. It was May 22nd 2013 was when Bernnanke first mentioned tapering which resulted in a 4 week sell-off, but the broader direction/trend in 2013 was still unwaveringly positive.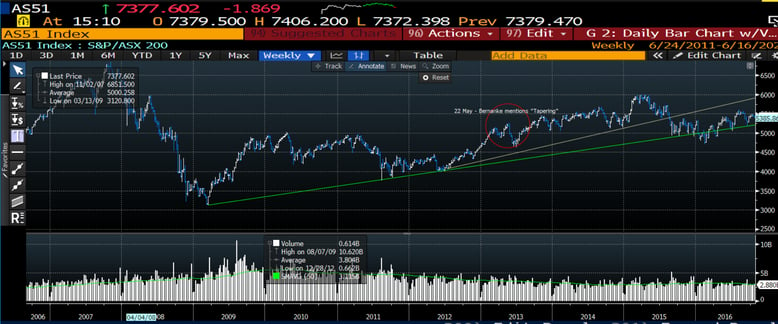 Given the market's reaction last week to a change in the Feds stance on interest rates than our recovery this week, and applying the overlay of 2013 when Bernanke first mention Tapering, the broader market direction/trend in 2013 remained intact.
Unlike 2013 when the term "Tapering" caused panic over a 4 week period, this time around it's expected and, to a degree, the factoring in the process has already begun.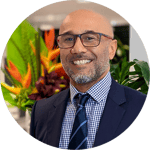 "In short, we are in the BUY the dip camp."
- Jason Lal, Head of Institutional Sales
As Trent Primmer talked about in his Ausbiz interview yesterday reflecting our house views, we are positioning ourselves to take advantage of any sell-off in equity markets and in particular our preferred sector Resources - with strong views in Gold, Copper, Oil, Green Energy & Iron Ore.
If we haven't already touched on our prefered stocks in the above-mentioned sub-sectors please contact us directly to discuss further, as we have a number of pre-IPO and IPO opportunities coming up.
---
Key Events for the Fed in 2013: the Year of The 'Taper Tantrum'
"(Reuters) - The year 2013 was a tumultuous one for the U.S. Federal Reserve as it wrestled with when and how to end the controversial bond-buying program it began in response to the 2007-2009 financial crisis and recession.
Policymakers managed to unveil their plan for winding down the program, known as quantitative easing, at the end of that year, but not before then-Fed chief Ben Bernanke triggered what is commonly called the "taper tantrum" when he tipped their intentions during an appearance before Congress in May 2013."
US Economic Data Due Tonight

---
Where to from here?
Trading equities is all about having access to the right investment opportunities and making decisions based on accurate, unbiased information. Often, this means hours of research on a daily basis, keeping up with several ASX announcements, understanding economy-impacting events and regularly consuming broader news updates. If you're not an equities trader by profession, then it can quickly become rather overwhelming, especially once you have built a considerable-sized investment portfolio.
Our Equities Trading team, backed by our independent research department is the ideal solution for said situation. Our clients receive access to exclusive investment opportunities, daily ASX research reports, our expert weekly outlook on the Australian markets and direct access to our equity traders.
Trading with Barclay Pearce Capital is about building long-term returns, trust, confidence and a mutually beneficial relationship.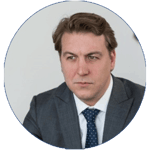 Chief Investment Officer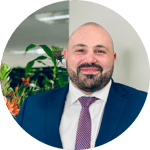 Head of Trading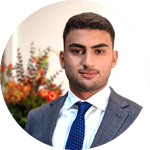 Equities Trader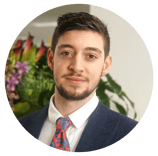 Equities Trader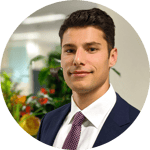 Equities Trader

Equities Trader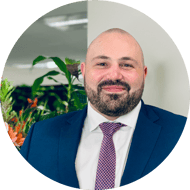 "Trading with Barclay Pearce Capital ensures the needs of investors of all magnitudes are met by our highly skilled and attentive trading professionals."
~ Trent Primmer, Head of Trading, Barclay Pearce Capital.