Private Placement - Sweetman Renewables Ltd
Sweetman Renewables is a public unlisted company that is acquiring a sawmill business and associated forestry land located in the Hunter Valley of NSW.
Barclay Pearce Capital is acting as Lead Manager for a Pre-IPO placement for Sweetman Renewables Ltd,

as mentioned by the AFR Street Talk article, raising up to $4,000,000.
Bids for the Placement are due by 12:00pm on the 10th of September 2021. The book is subject to closing early according to investor demand.

---
Offer Details
An Offer to raise up to $4,000,000 via a pre-IPO private placement:
$4,000,000 via the issue of 38,095,239 shares at an offer price of $0.105 (10.5 cents) per fully paid ordinary share.
The company reserves the right to vary the offer and accept all or selective applications of oversubscriptions at its discretion.
About Sweetman Renewables
The Sweetman family sawmill business has been profitable and selling timber products to the local market for 100 years. The business has long-term contracts in place with the Forestry Corporation of NSW. With a scope to increase forest supplies due to the burgeoning demand for timber and the emergence of biomass as a renewable energy source.
Biomass will play a critical role in filling the void left by coal power generation as the world transitions to 100% renewable energy. Sweetman Biomass will leverage the sawmill operation to supply low-cost biomass by utilising low-quality logs, residue from wood processing, other sawmills and sourcing of wood waste from forests. Additionally, biomass opens the door to green hydrogen production through pyrolysis with the sale of its byproduct, biochar, to various industries such as the agricultural sector.
Investment Highlights
Sweetman Sawmill
Sweetman Renewables has entered into a contract sale of the Sweetman Sawmill business for total consideration of A$3.5 million, of which a A$350,000 deposit has been paid to the vendors.
The business is set on 100 acres of prime freehold land in the NSW Hunter Valley with a 100-year track record of operations.
The only hardwood sawmill in operation between Sydney and Newcastle, making it an important supplier to these key regions.
Long-term existing timber contracts with NSW Forestry Corporation with scope to acquire more.
Expansion plans to double production capacity to meet growing demand from customers across Australia.
Sweetman Biomass
Leverages the sawmill operations to offer a high-quality biomass product for the market.
Benefits from the renewable energy revolution with demand rising exponentially for biomass.
20-year offtake contract signed with Japanese conglomerate to supply 60,000 tonnes per annum of biomass at US$75 per tonne. Valued at US$4.5m per annum or US$90m over the 20-year contract life.
Advanced offtake contracts in place with Hunter Valley based Redbank Biomass Plant to be retrofitted by Verdant Earth Technologies.
Additional offtakes in the pipeline with domestic and international parties.
Advanced negotiations with several sawmills to secure additional biomass supply to meet the burgeoning demand.
Sweetman Hydrogen
Green hydrogen extracted from syngas produced through a pyrolysis process from biomass.
Exclusive licence from Patriot Hydrogen for use and sale of patented Patriot P2H modular units for green hydrogen production.
The modular units are portable and flexible in their capacity enabling a broad application from energy storage to transportation.
BioChar is a saleable byproduct of the process which has value to the agriculture, construction, and beauty sectors.
This private placement is exclusive to s708 investors only.
Learn more about s708 certificate here.
---
The Australian Financial Review published an article regarding Sweetman Renewables pre IPO raise this week as part of its transition into a renewable energy business.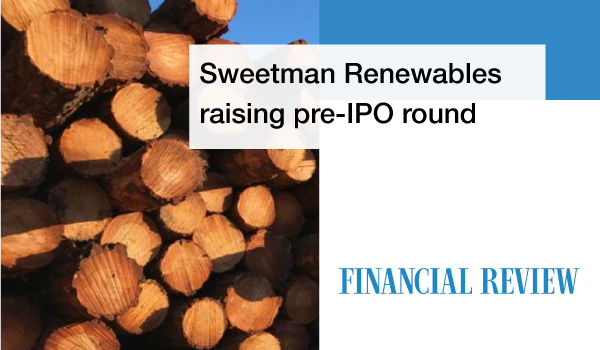 "The company has tapped boutique corporate advisor Barclay Pearce Capital to manage the pre-IPO raise, with the business understood to be targeting a listing later this year."
"Barclay Pearce Capital was no doubt selected thanks to its track record of managing pre-IPO raises for companies such as Verdant Earth technologies and green hydrogen player Infinite Blue Energy." Read the full AFR article for more information.