Barclay's bull or Pearce take? Assessing the IPO market after a 'rush for the gate' in July
Each Friday, we highlight the key trading themes of the week, along with companies and sectors investors should be keeping their eye on.
We're excited to announce our weekly segment published in collaboration with Stockhead.
As part of the weekly recap for Stockhead, our Director of Trading, Trent Primmer, was interviewed to share some trading highlights of the week.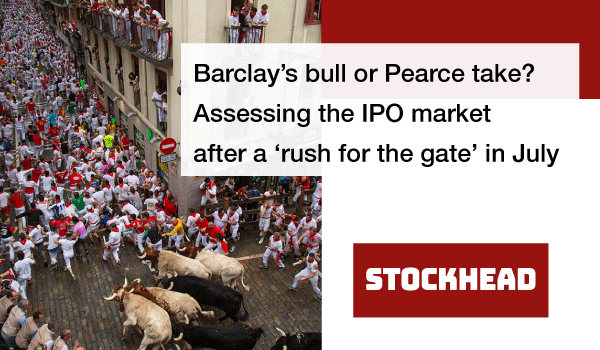 As the ASX climbed to new record highs in July, the healthy pipeline of IPO activity turned into something of a frenzy last month.
By last Thursday, the ASX had welcomed no less than 33 new companies to the boards — an IPO average of more than one a day.
That accounts for more than half of the total through the entire first half of the year, when 61 more companies were listed in the six months to June 30.
In the wake of that mad rush, the forthcoming IPO pipeline has slowed, says Trent Primmer.
And it's a possible indicator for investors asking 'where to next?' as the post-COVID bull market shows no signs of slowing just yet.
---
Where to next?
With ASX200 reporting season about to kick off in earnest, Primmer offered an appraisal of the market ahead of what's expected to be some bumper profit results.
He said that for now global markets continue to digest higher inflation data, with Australia's 3.8% annual CPI print last week prompting little reaction from the ASX.
But he noted "thinner liquidity" in some corners of the market, while listing activity is starting to taper off with only "16 or 17" companies in the IPO pipeline.

"It sort of leaves you asking — what next? If there is thinner liquidity after earnings season we could see the market come back from these recent highs. Right now we're happy to maintain those weightings towards commodities, and hold gold as an inflation hedge in client portfolios."
- Trent Primmer, Director of Trading
Trent said:
"Having cash on hand to take advantage of opportunities, but I wouldn't completely be cashing up in this environment. I think if markets come off it will be more of a slow burn. I don't think it's going to be as quick as what everyone expects."
He also flagged the post-COVID trend which has seen more younger investors enter the market, alongside plenty of pent-up demand and higher savings rates.

There's still that interest from younger investors who often have a higher risk appetite. So in a way, I think that will provide some stability, and for plenty of people who don't have the means to invest in property, equity markets still remain a pretty attractive option to invest your funds."

- Trent Primmer, Director of Trading
---
Rushing for the gate
Looking ahead though, Primmer said the pending slowdown in IPO activity is "slightly concerning", particularly in light of the July rush.
Trent said:
"We saw everyone rushing to the gate to try and get listed. And the majority of it is driven by the fact people want to make the most of a hot market.
When IPOs are doing well, the rationale of 'we need to get this company listed ASAP, because we don't know how long the market will be hot for' can start to creep in."

"I think that will be an interesting trend to watch given the pipeline has slowed now — how many companies hold off on listing to reassess where markets are at the post-earnings season, or whether they bite the bullet and go to market."

- Trent Primmer, Director of Trading
For retail investors, Primmer recommends maintaining a watchlist of new IPOs, and tracking their early performance rather than jumping in straight away.
Trent said:
"You don't want to be the guy caught on day one, and then the share price tanks below the IPO price."

"Build a watchlist and look at how they trade. On the flip-side, a lot of companies can be picked up at a discount to IPO in the next few weeks, particularly if the market comes off and we see thinner liquidity."
- Trent Primmer, Director of Trading
Trent said:
"So it might be worth looking for some cheaper prices but wouldn't be allocating a massive amount of capital to IPOs, not in this market."
To read the full Stockhead's article, click here.
---
Trading equities is all about having access to the right investment opportunities and making decisions based on accurate, unbiased information. Often, this means hours of research on a daily basis, keeping up with several ASX announcements, understanding economy-impacting events and regularly consuming broader news updates.
Our Equities Trading team, backed by our independent research department, is the ideal solution for said situation. Our clients receive access to exclusive investment opportunities, daily ASX research reports, our expert weekly outlook on the Australian markets and direct access to our equities traders.