November Gonna November - Market Map with James Whelan
New job, new firm but the same Free Whelan. I thank you for your continued support. Speaking of support, on the 28th of November I'll be speaking at the Ensombl All Licensee Professional Development Day.
Link available here
and I look forward to seeing you there.
---
Another week rolled on and we saw that we accurately predicted the RBA decision (ouch) but that I still haven't picked a Cup winner since Delta Blues. I know which one I'd rather be better at predicting.
While the expression "let's circle back to this in the new year" becomes more prevalent from this week onwards we remind you that the market remains open and for now, bullish.
As for Moody's, not so much with regards to the USA.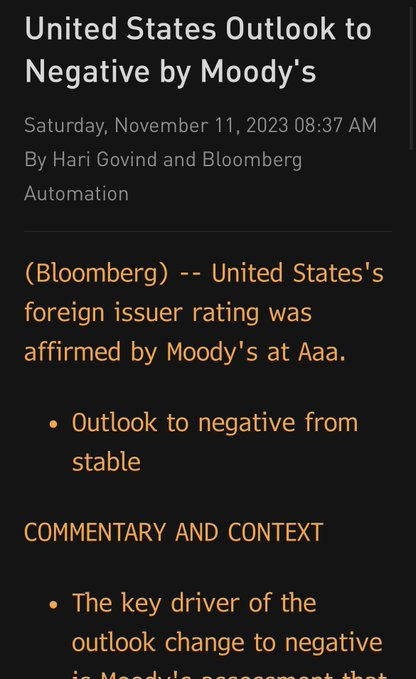 Source: Bloomberg
Dropped on Friday afternoon and made some headlines. The US economy is an unstoppable powerhouse and should be treated as such.
This I found interesting and backs up the colossal bond purchases we saw through October. They've seen their highest weekly inflows since June. Happy to follow along there.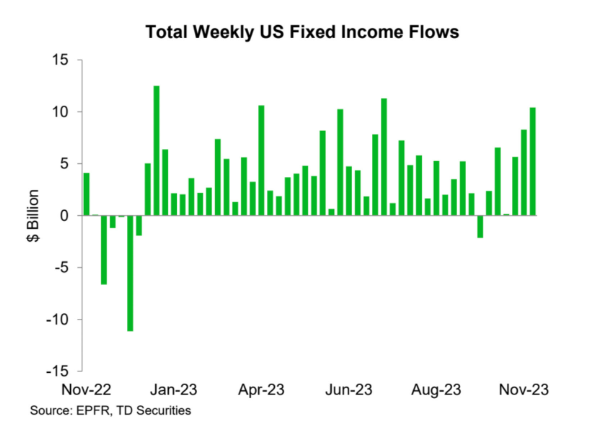 Source: EPFR, TD Securities
Now for the stats that matter. The S&P 500 has never been lower a year after the midterm elections. Which were a year ago. Since 1946 the average return on the market over a 12 month period following the midterms is 14.1%. How much was it up this time? 14.1%.

Source: Carson Investment Research
Remarkable. Stay the course.
If you see anything like this then please don't be too alarmed either. There's always a set number of charts that various commentators will say "This looks ominously like 1987 or 2008" or something like that.
This is no different and you need to take this with a big grain of salt.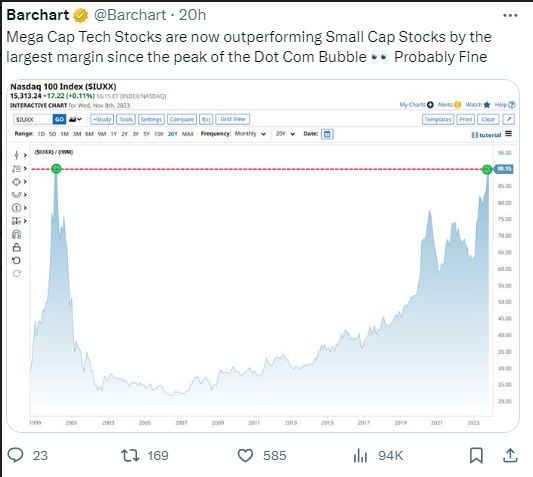 Source: Barchart
Remember that the paradigm of the "Magnificent 7" is different now (he says) based on the astronomical cash flows generated by those companies and the strength of their stock prices negates much of the traditional ways of valuing those companies. Hence, in theory, the separation will become more pronounced.
That being said, Google is going to be going through some things for the foreseeable future with the USA vs Google antitrust trial.
As usual, the best follow for this is Jason Kint on Twitter. He's picking through every court document and finds some interesting things.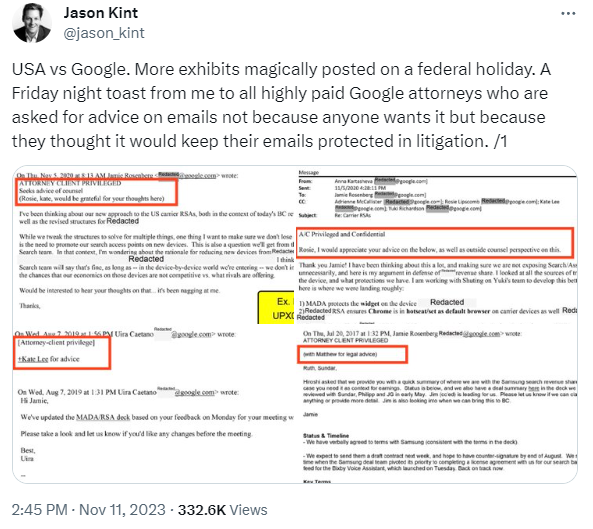 Source: Twitter
There will be a point to be back in Google but I think it may be more prudent to be light on it, particularly when Microsoft is right there which already went through its own antitrust back in the day.
All the best and stay safe,
James