Verdant Earth Technologies Limited Files Registration Statement for Proposed IPO
Verdant Earth Technologies has recently announced that the company has filed a registration statement for a proposed Initial Public Offering of its ordinary shares. Verdant has recently been featured in an article by Yahoo Finance.
The company raised $2 million in a Pre-IPO round led by Barclay Pearce Capital early this year.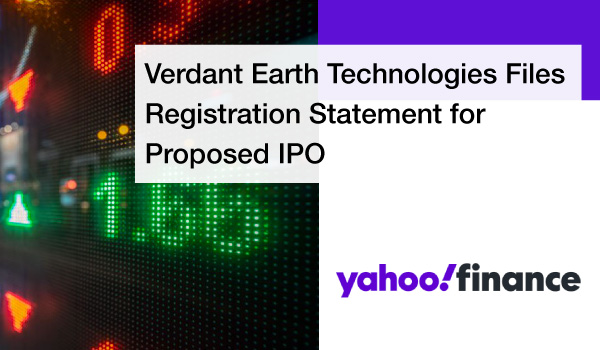 Verdant has applied to list its shares on the Nasdaq Capital Market under the ticker symbol "VDNT". According to Yahoo Finance, the number of shares to be offered and the price range for the proposed offering have not yet been determined. The proposed offering is subject to market conditions, and there can be no assurance as to whether or when the proposed offering may be completed, or as to the actual size or terms of the proposed offering.
Roth Capital Partners is acting as the sole manager of this offering. The proposed offering will be made only by means of a prospectus.
---
Verdant Earth Technologies Limited (NASDAQ: VDTN) is a development stage green energy company with the goal to develop a network of renewable energy and green hydrogen projects in Australia.
The company is undergoing a strategic rebranding as part of its broader shift to building a technology agnostic, diversified renewable energy company. Verdant's flagship asset, the 151MW Redbank Power Station, is a power station with a replacement value in excess of $450m. The plant is located in the Hunter Valley south of Singleton and is currently under care and maintenance. Verdant is repurposing Redbank to operate solely on waste biomass with net-zero CO2 emissions with a restart to operations scheduled for Q4 2021.
Verdant Earth Technologies' goal is to become the largest hydrogen producer and exporter on Australia's east coast. The company's proposed Monarch green hydrogen plant, Australia's first scalable hydrogen production plant, will initially deliver 6.5 tonnes per day before being scaled up to 60 tonnes per day by 2024. Verdant plans to establish further similar sized hydrogen production plants within Australia.
*This press release shall not constitute an offer to sell or the solicitation of an offer to buy the ordinary shares, nor shall there be any sale of such securities in any state or jurisdiction in which such offer, solicitation, or sale would be unlawful prior to registration or qualification under the securities laws of any such state or jurisdiction. Any offers, solicitations or offers to buy, or any sales of securities will be made in accordance with the registration requirements of the Securities Act of 1933, as amended.
Read the full Yahoo Finance article here.
To keep up to date with what's happening with Verdant and the green technology industry as a whole, subscribe to the Verdant Chairman's List.