White Rock Minerals (ASX:WRM) 140 g/t Intercept, Exhibition Reef, Morning Star Gold Mine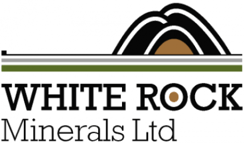 White Rock Minerals (ASX: WRM; OTCQX:WRMCF), ('White Rock' or 'the Company') is pleased to provide an update on surface drilling assay results from the Dickenson South target area at the Morning Star underground Gold Mine in northeast Victoria. This target area, between surface and 6 Level, is within 100 metres of the existing shaft and accessible from multiple levels.
Key Highlights
Drill hole 22SDS012A returns 5 metres at 51.6g/t gold, including 0.2 metres at 140g/t gold at the Exhibition Reef at the Morning Star Underground Gold Mine, Victoria.

The Exhibition Reef is a parallel mineralised quartz structure above the Dickenson Reef at the southern end of the mine where development is underway ahead of a mining

Exhibition Reef's "high-grade" gold target area is potentially more than 100m in strike length and up to 40m down-dip

.

Multiple mineralised intercepts through the Exhibition Reef provide encouragement that this area, close to the shaft and existing development between 3 Level and 4 Level, will provide an additional ore source once mining

White Rock will use current development on the Dickenson Reef to develop an exploration rise into the Exhibition Reef to confirm its potential for near term

Recent drill intersection assay results from the Exhibition Reef include:

5 metres at 51.6g/t gold

in 22SDS012A including 0.2 metres at 140g/t gold (true width).

4 metres at 35.9g/t gold

in 22SDS015 (true width).

Assay results are pending for holes 22SDS019 to

The Exhibition Reef is one of five potential gold production areas at Morning Star Gold Mine, with gold mining on track to restart in Q3 of
White Rock intercepted 621g/t gold at the Gap Zone at Morning Star last
White Rock's primary objective at the Morning Star Gold Mine is a low capital cost restart of gold production from multiple reef locations. The Company seeks to achieve this by identifying and drilling areas of the dyke with potential to host multiple high-grade gold quartz reefs proximal to existing underground development infrastructure.
The Dickenson South target area is one such primary target with multiple high-grade, gold-bearing reefs. The surface drill rig has now completed a program of drill holes that assisted in the assessment of near term development and production potential for further working areas close to the Main Shaft; the Age of Progress Reef and Stacpoole Reef, accessed via 2 Level and the Dickenson Reef and the Exhibition Reef that can be accessed via 4 Level (Figure 1).
Of note, the latest phase of infill drilling from surface has highlighted the potential of the Exhibition Reef to provide an additional working area for the upcoming recommencement of mining activities. Figure 2 highlights the area where a significant "high-grade" zone could extend for more than 100m strike and up to 40m down-dip. The Exhibition Reef "high-grade" target area includes the following intersections:
2 metres @ 140g/t gold

in 22SDS0012A (true width);

2 metres @ 13.1g/t gold in 22SDS013 (true width);

4 metres @ 35.9g/t gold

in 22SDS015 (true width);

4 metres @ 12.7g/t gold in 21SDS005 (true width); and

4 metres @ 21.2g/t gold

in L4001 (true width).



Read the full announcement here.