Barclay's bull or Pearce take? Portfolio positioning for an energy crisis
Each Friday, we highlight the key trading themes of the week, along with companies and sectors investors should be keeping their eye on.
We're excited to announce our weekly segment published in collaboration with Stockhead.
As part of the weekly recap for Stockhead, our Director of Trading, Trent Primmer, was interviewed to share some trading highlights of the week.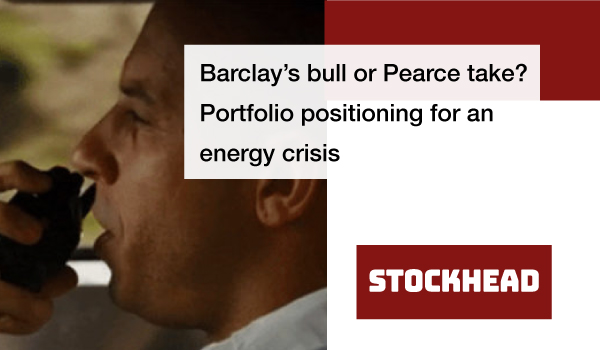 A clear investment narrative is taking shape as markets head into the end of the year.
Rewind six months, and fund flows tied to the 'reopening trade' presented a more bullish outlook for commodities.
---
As the world emerges from the pandemic, that bullish momentum has morphed into what now looks more like an energy crisis.
For Trent Primmer and the Trading Team at Barclay Pearce Capital, oil is the trade that's paid.

- Trent Primmer, Director of Trading
In his latest interview, Primmer said global energy markets have ended up in a bit of a "Catch-22" in the post-COVID economy.
On the one hand, the clean energy shift has driven more capital flows towards renewable projects.
On the other, oil & gas demand is picking up in the wake of a five-year structural downturn in supply. Fossil fuel investment was deemed either uneconomic or not conducive to ESG sentiment.
Primmer said:
"Those fossil fuel sectors — coal and oil & gas — have had difficulty attracting funding in an ESG-focused world.
But for the short-term at least, fossil fuels still provide around 80% of the world's energy."
---
The oil & gas trade
As Brent crude prices rose above oil & gas, the Trading Team at BPC dialled in on large-cap plays Woodside (ASX:WPL) and Beach Energy (ASX:BPT).
Trent says:
"We've favoured WPL because of its exposure to LNG. They've got some of the largest and highest-quality LNG projects globally."

"
Beach Energy is another oil stock that's really rebounded and we've been buying it on the way up."
- Trent Primmer, Director of Trading
Primmer said the BPC strategy is to focus on a targeted strategy, rather than seeking a broader exposure to the macro move in oil prices.
Primmer said:
"As traders, we're not building an ETF.
The goal is to make two or three high-conviction investments and build larger positions on price weakness when we can.
Pick a theme, pick a company that you feel has the best exposure. Doing your research and sticking to it will carry you far in this market."
---
The clean energy trade
Of course, within the complex make-up of global energy markets, the green transition is still underway.
Uranium is no longer a dirty word — especially since Sprott started buying physical units of the stuff in August.
Primmer said:
"On the uranium side of things, Deep Yellow (ASX:DYL) is one of the larger positions our guys have been accumulating,"

BPC is also getting uranium exposure through Paladin Energy (ASX:PDN) and Peninsula Energy (ASX:PEN). But in line with the group's targeted strategy, "that's about it", Primmer said.
Barclay Pearce Capital is also working with a number of pre-IPO companies who are developing green energy solutions, with a focus on hydrogen technology.
Referring back to his 'Catch-22', Primmer said investors can expect to see "a flurry of renewables companies hitting the market".
And when it comes to the clean energy transition, Primmer said investors should be focused on the latter part of that equation — a transition.

"A lot of people are kicking up a fuss where these projects are coming to market and they're not fully green, 100% zero emissions. But it's like any sector — you're going to have first-movers that aren't 100% green."
- Trent Primmer, Director of Trading
Trent said:
"It's still a step in the right direction. And as traditional fuel sources taper off, the long-term opportunity will be there for renewables companies that have developed those clean energy processes."
To read the full Stockhead article, click here.
---
Trading equities is all about having access to the right investment opportunities and making decisions based on accurate, unbiased information. Often, this means hours of research on a daily basis, keeping up with several ASX announcements, understanding economy-impacting events and regularly consuming broader news updates.
Our Equities Trading team, backed by our independent research department, is the ideal solution for said situation. Our clients receive access to exclusive investment opportunities, daily ASX research reports, our expert weekly outlook on the Australian markets and direct access to our equities traders.