Barclay's bull or Pearce take? Treading carefully (with one eye on the CPI)
Each Friday, we highlight the key trading themes of the week, along with companies and sectors investors should be keeping their eye on.
We're excited to announce our weekly segment published in collaboration with Stockhead.
As part of the weekly recap for Stockhead, our Head of Trading, Trent Primmer, was interviewed to share some trading highlights of the week.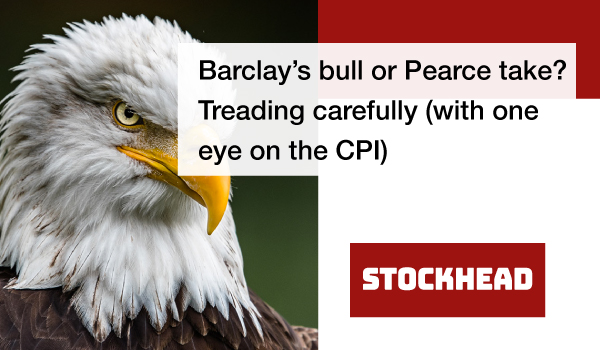 The jitters at the start of this week turned out to be more of a blip in the post-COVID bull market, as the ASX closed yesterday with its third straight day of solid gains.
But Trent is holding some funds in cash and staying overweight in commodities amid lingering concerns about the macroeconomic outlook.
In light of the strong run-up in US inflation data through the June quarter, Primmer remains of the view that it will be a key theme to watch for investors in the months ahead.
---
Keep an eye on CPI
Since US CPI data for April showed the biggest annual jump in 13 years, the inflation debate has moved back to the forefront.
The latest June print showed monthly CPI continued to rise through the middle of the year, climbing to 5.4% in annual terms.
Those annualised figures are coming off a low base, but Primmer says it's not just about numbers but about expectations.

"The expectation (for June) was 4.9%, so that surprise to upside turned views in some corners away from 'transitory' to perhaps something more permanent. The expectation for July is currently pegged at 5.4% and if it continues to beat expectations, there could be huge macro implications."
- Trent Primmer, Head of Trading
So far, the market has digested higher US inflation in line with the US Fed's view that it will prove transitory.
However, ongoing surprises to the upside could pose a challenge to that thesis. And if the market assesses that higher inflation is here to stay, it could prompt a material rotation to the liquidity settings that currently underpin stock prices.
Trent says:
"At Barclay Pearce, we lean more towards the banner that higher inflation will be more permanent.
And we've positioned our portfolios to account for persistently high inflation over the next 12-18 months."
---
Commodities complex
In that environment, Primmer views commodities as the preferred asset class compared to say, high-growth tech stocks where valuations are more susceptible to rising rates.

"Gold's still the obvious inflation hedge, and we've seen it climb back around that US$1,800 level. That's my rationale for holding gold but I don't think it's going to be a constant rally higher, we're still going to see some peaks and troughs in the gold price."
- Trent Primmer, Head of Trading
He also said silver should remain well supported, given that it often runs in line with moves in gold.
Trent says:
"I think it's looking a bit undervalued based on the gold/silver price ration, which is the highest level since January.
So broadly speaking, I'd be holding commodities if you want to keep some money in the market.
And across our portfolios we're holding around 15% in cash, which can be ammunition for some good buys if stocks come off. I think it's important to hold some cash at the moment and not be fully invested."

Across the commodities complex, Primmer reckons there's still good "long-term" value in Lynas Rare Earths (ASX:LYC).
And at the small-cap end of the copper market, he maintains his Hot Chili (ASX:HCH) pick as well as Locksley Resources (ASX:LKY), which Barclay's brought to market earlier this month.
Trent says:
"I can't see really a major catalyst for a big short term move in copper, but over the medium term horizon we maintain a strong view of higher prices emerging."
But heading into the second half of the year, Primmer flagged there's a bit more doubt creeping in as stocks climb to new all-time highs.

"It's impossible to time but I am wary of a correction with the market running this hot. Obviously you've got the unpredictability with Covid, and with that CPI inflation trend there's a few more nerves about where the market's at."
- Trent Primmer, Head of Trading
To read the full Stockhead's article, click here.
---
Trading equities is all about having access to the right investment opportunities and making decisions based on accurate, unbiased information. Often, this means hours of research on a daily basis, keeping up with several ASX announcements, understanding economy-impacting events and regularly consuming broader news updates.
Our Equities Trading team, backed by our independent research department, is the ideal solution for said situation. Our clients receive access to exclusive investment opportunities, daily ASX research reports, our expert weekly outlook on the Australian markets and direct access to our equities traders.