Green energy and the global race to a net-zero economy
Our Equities Trader, Morgan McGuire, was interviewed by Stockhead to discuss the global interest in developing a sustainable green economy, placing pressure on companies to pivot operations.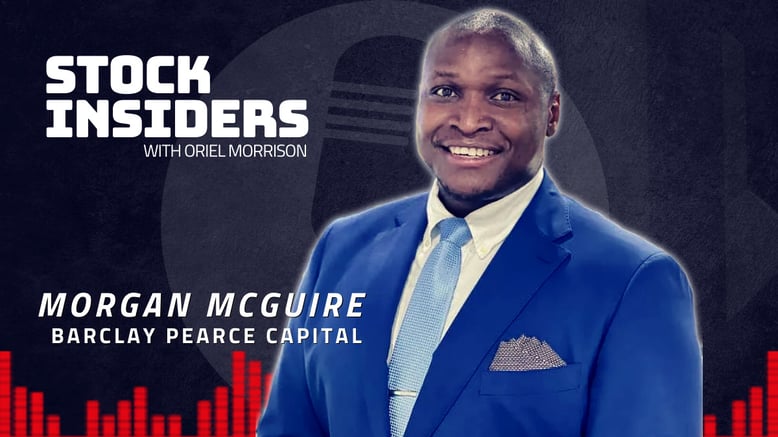 This episode focuses on green energy; a hot topic amidst the current geopolitical climate.
Morgan discusses the shift towards green energy:
"The pressure for companies to move to decarbonisation is growing daily and companies have really begun to shift in the correction, with massive changes to their business direction and policy framework".
To hear more about Morgan's trading experience, opportunities in green energy investments, hydrogen energy projects in Australia, uranium development, commodities sector opportunities and more, listen below:
---
Read the conversation:
Oriel Morrison:
Oriel Morrison:
"The interviews and discussions in this podcast are opinions only and not financial or investment advice. Listeners should obtain independent advice based on their own circumstances before making any financial decisions. This episode of the Stock Insiders podcast with me, Oriel Morrison, is sponsored by Barclay Pearce Capital, a leading Australian corporate advisory and equities trading firm. Focused on your vision, Barclay Pearce specialises in making it a successful reality.
Hello everyone and welcome to Stock Insiders with me, Oriel Morrison. Well as geopolitical tensions between Russia and Ukraine escalate, the impact and of course the implications are causing some significant economic turmoil around the world. We can see this in the global markets, but specifically, or especially in the energy markets oil, gas and of course even uranium. I'm joined now by Barclay Pearce Capital equities analyst and trader, Morgan McGuire. Morgan, welcome. Thanks for joining us today."
Morgan McGuire:
"It's a pleasure to be here and thank you for having me here on Stockhead."
Oriel Morrison:
"Morgan, how long have you been covering the equity markets?"
Morgan McGuire:
"It's a bit of a winding path for me getting into the covering of equity markets. I grew up playing rugby league. Like most young league players, I had all things planned to play NRL. That didn't quite turn out, so I figured I needed to make a life pivot. I worked in construction and moved into the risk management side in various sectors within construction, while studying psychology.
I love gaining an understanding of how the mind works and human behaviour, and I'm obsessed with evidence-based approaches to things. I've been steadily investing in the stock market personally since the age of 19 and I've always been intrigued by the stock market and behaviours of it. So coupling that intrigue and my studies, it was a natural segue for me to get into the equity market. I now have two young girls and like all people with a young family, I'm just trying to make the most of life's opportunities to create the best possible future for them."
Oriel Morrison:
"Well, we've been faced with global pandemics. We've been faced with, here in Australia of course, recently floods along the east coast. There are geopolitical tensions that of course are happening overseas as well.
Did you ever think you'd see geopolitical tensions like the ones we're seeing today?"
Morgan McGuire:
"I suppose if you have a look back historically, there have been some geopolitical tensions over time. In my adult life, I wasn't expecting to see the level of implication that that's had on the stock market. So, it is very intriguing, very interesting, and kind of worrying times, and a bit concerning for people to navigate at this time."
Oriel Morrison:
"Well it's had such a massive impact on the energy space in particular. Specifically referring to the very, very sad situation in Russia and Ukraine. Oil, gas and uranium prices have all moved rapidly as a result of that.
Did you expect, or would you have expected to see such a strong reaction in energy?"
Morgan McGuire:
"As I mentioned before, historically we've seen pretty rapid movements in the stock market. So, if we think back to when the US invaded Iraq in March 2003, stock markets rose about 2.3% the following day and finished the year with a gain of about 30% from that point on.
You've even got the Korean war, which began in 1950. North Korea invaded the South. That conflict ended in the summer of 1953. In that time the Dow [Jones] was up an annualised 16% or almost 60% in total.
In the six months following the onset of World War I, 1914, the Dow fell more than 30%. From the start of World War II in 1939. It ended in late 1945, the Dow was up a total of 50%, so more than 7% per year. So, looking at that during the two of the worst wars in modern history, the US stock market was up about a combined 115%.
There was some level of anticipation that there would be fluctuation, but to the extent that we're seeing it now, I can't say that was guaranteed. In saying all that, the fact is that the market doesn't always respond to geopolitical tensions in the way that we anticipate.
I'd love to say if there's someone who wants to say they know for certain how things will be, let's say a year post-conflict, then they're in possession of a crystal ball that I definitely need to get a hold of."
Oriel Morrison:
"I'd like to get a hold of that too, Morgan. We're just talking about what sort of impact this has had on markets in general, but specifically in energy and I think in terms of the anecdotal messaging that I'm getting from some of the investors that I'm talking to at the moment, there's a lot of hope out there that the growth that we're seeing in renewables and the renewable space and green energy will help to offset some of those issues that we're seeing today.
Is that what you hope also?"
Morgan McGuire:
"I'm on board with the whole concept of the green economy and the need for urgent, more intensive action against climate change. It's broadly recognised and I guess renewable energy is definitely the buzzword and the hot topic of late. However, the term 'green economy' I assume was arguably coined back in 1989.
It seems like many countries at the moment are kind of in competition to be the first to proclaim to the world that they're on their targets and net zero. They also proclaim that they're the next hydrogen superpower. I guess from an economic perspective, it's understandable with the level of attention that's getting driven towards a green economy.
That's probably most relevant within the last 10 to 15 years. We've seen a pretty sharp increase in the people that are likening the use of hydrogen as the next oil. So, I noticed that we're seeing a pretty large global commitment towards sustainable and environmentally friendly practices being considered by global leaders for some time now.
I think that's the way forward. I think we really need to have a concentrated effort towards making sure that we're aiming towards decarbonisation in a tangible manner."
Oriel Morrison:
"You're following that, correct me if I'm wrong Morgan, quite closely in terms of private company projects, public company projects, government grants, companies that are raising money in order to move forward in the green economy."
Morgan McGuire:
"Yeah I am. I've got a pretty sharp focus on that from a domestic point of view. So if you have a look at Australian Renewable Energy Agency (ARENA). That agency is focused on distributing government resources towards projects that are aligned with the goals of global de-carbonisation and which are within Australia's roadmap.
There's multiple projects within Queensland alone that have come from part funding from these government agency since 2012. They've supported 612 projects so far with $1.81billion in grant funding. That's unlocking a total investment of almost $7.9 billion in Australia's renewable energy industry.
The pressure for companies to move towards de-carbonisation is growing daily and companies have really begun to shift in the direction with massive changes to their business direction and policy frameworks. The path is changing and the way forward I think a lot of companies are starting to come to that realisation and are really getting on board with the whole green economy and trying to establish these value chains."
Oriel Morrison:
"There's obviously many different tentacles to the green economy and what those decarbonisation pressures I suppose look like and what they result in, in terms of changes for companies, but one of the things that we're very focused on in Australia is of course hydrogen.
How closely are you following the hydrogen space and how successful do you believe we're going to be in Australia? What should investors should investors be looking at?"
Morgan McGuire:
"I think we're in the early stages within Australia. I think a couple of other countries are a little more advanced in their processes in relation to hydrogen. Just specifically relating to infrastructure, legal frameworks and governmental policies and regulations.
At the moment, I have a colleague that I know that's helping contribute hydrogen into the gas networks and at the moment, the feasibility isn't quite there. He's looking at importing about 270 million for just the logistics of getting hydrogen from Victoria to Queensland and 290 million for the raw material itself.
At the moment, it's not quite where it needs to be, to be commercially viable, but I think that we're quite on the path there. If you have a look at a couple of projects that are currently happening, for example, the Fortescue Futures Industries' project in Gladstone with Twiggy Forrest who is kind of heading up that development.
The structure is there for everyone to get on board with encouraging governments to get the framework in place and the infrastructure that's needed to really establish these value chains. I think that will move us in the right direction to make hydrogen a really more viable energy source for the future."
Oriel Morrison:
"Looking at some of those companies. You mentioned Fortescue Future Industries. Are there any specific companies that you're watching within that hydrogen space?"
Morgan McGuire:
"Yeah, there is. So in Queensland, there's a Brisbane-based firm called Gold Hydrogen. They've applied for permits covering an area in the Southern half of the Yorke Peninsula and Kangaroo Island, where there were two unsuccessful oil wells drilled in the 1930s that turned out high-purity hydrogen. Funnily enough, there's been a few others that have now followed suit heavily due to the research paper that was published by CSIRO and Geoscience Australia last year. What that has identified, it documents accidental discoveries of hydrogen across the country.
To put it into perspective, the data set involves approximately a thousand natural gas samples from around 470 wells in both sedimentary and non sentimentally basins, with reservoir rocks ranging in age from 2.8 to 2.5 billion years ago. There is potential to find natural pockets and I think that's what a lot of companies are aiming towards.
Gold Hydrogen, again, a Brisbane-based company. That's one of the companies that are looking to leverage those types of opportunities. In Queensland alone, there's a huge amount of projects that are taking shape. A few examples if I'll rattle those off. There's Genex Power. So they've got the Bouldercombe Battery Project near Rockhampton. CS Energy, they've got a project next to the Kogan Creek power station, just near Chinchilla. They're using Tesla supplied batteries to store the energy that is created. Then we've got the Western Downs project by Singapore-based Vena Energy. That's currently progressing through the commissioning process.
What excites me is the boost to the local economy, job creation and the investment opportunity that will accompany these projects."
Oriel Morrison:
"I think jobs creation is probably key. There seems to be a bit of a skills shortage in this area. This has been exacerbated of course by the border closures and so forth caused by the pandemic.
But how big an issue is that when we're talking about these green energy commodities?"
Morgan McGuire:
"That's a very key point there Oriel. I think to avoid trying to oversimplify a very complex situation, we need to look at the key factors that are kind of roadblocks towards de-carbonisation and really establishing the green economy and the infrastructure along with the up-skilling and also the repurposing of existing infrastructure.
That's a lot of things that need to be taken into consideration. I think there is opportunity there to create more jobs, create the upskilling framework that would be established. If there's an opportunity for governments to provide contribution to those things, I think we'd be heading in the right direction. There are definitely some challenges in order to get the green economy really established to where it needs to be."
Oriel Morrison:
"We just obviously talked about hydrogen. We know that this is something that there are a few companies in Australia that are focused on, but where else is the capital flowing towards when it comes to the green economy and other green economy commodities that Australia does have in abundance?"
Morgan McGuire:
"In relation to a couple of the other commodities that Australia exports that do contribute towards the green economy. We still have copper, we've got lithium and manganese and graphite and graphene. A lot of these commodities that are exported by Australia will have a significant increase in the coming years when the demand for electric vehicles and hydrogen vehicles expands to the levels that we are anticipating.
Anecdotally, there is a lot of investor interest in these spaces at the moment. I think that Australia is really uniquely positioned to capitalise on that. I don't think that the investors quite understand the level of uptake that will be coming in the next 10 to 15 years.
If you have a look at Goldman Sachs, they've been extremely bullish on the whole concept around a commodity super-cycle at the moment and I think that is fairly true. If we're seeing how things have been moving in that space in the last year alone, you're seeing a significant upheaval in the prices for some commodities.
For example, look at the price of lumber. The price of lumber in a 12 month timeframe went up 400%. It's a pretty significant upheaval in just that commodity alone. Now that's not a stand-alone figure in the commodity market. I think what's adding fuel to that fire as well, as you mentioned before, is the fact that you have the conflict in Ukraine, it's added fuel to the fire, and we've seen a significant increase in the commodity market.
I think at present, we're seeing the largest upheaval since the 1973 oil embargo in the US. One differentiating factor from then and now is that we're seeing a buyer-led boycott as opposed to a seller-led boycott. Simultaneously, we're also seeing trade ties between Russia and the west disintegrate before our eyes.
Whenever this is going to actually come to a head and cease, we're not too sure, but at the moment, the opportunities lie within the commodities sector for the savvy investor."
Oriel Morrison:
"What about uranium? How does that fit into this particular area, because of course we just had quite a big uranium merger here in Australia."
Morgan McGuire:
"Yeah that mandate is the perfect opportunity for Australia. Australia has the world's largest resource of low-cost uranium. The recoverable cost is $40 per kilogram of uranium. The demand for Australian uranium is ultimately a function of installed nuclear electricity capacity in countries prepared to sign up to an Australian nuclear safeguard agreement.
If we look worldwide, there's about 436 nuclear power plants in operation. The total capacity is about 370 gigawatts of electrical power, which is equivalent to about eight times the total installed capacity of all conventional electricity generational plants in Australia. It's anticipated by the year 2030 that we should have a lot more nuclear reactors to the power plants operating worldwide.
Uranium will be in high demand and Australia is very well positioned to start generating a lot of revenue streams through the exportation of our uranium. It's very exciting times for us."
Oriel Morrison:
"When you look at opportunities for investors in this space, particularly in the green economy, Morgan, what are you pointing investors towards?"
Morgan McGuire:
"There is plenty of opportunity in the green economy at the moment. As I mentioned, there's a need to set up really robust value chains for the green economy and how, that will look is yet to be determined. At the moment, there's still opportunities within the commodities sector.
Things like lithium, we're looking at graphite, graphene. Looking at manganese as well and obviously copper. So, there's plenty of commodities that investors can still capitalise on, and that economy is only going to get more and more in demand as we move towards decarbonisation.
If you look in Europe at the moment, they've got particular policies that are changing, where vehicles that enter into the CBD regions have to be renewable. So no more carbon-emission vehicles are allowed within the CBDs of some particular European nations. It is all heading in that direction, and I think investors if they want some insight into where to place their funds, I think looking at the commodities sector is a pretty strong option, and I know us here at Barclay Pearce are of the opinion to point investors in that direction.
It's something that Goldman Sachs has been inching towards, strongly of the opinion that the commodities sector is still in the initial stages of our super-cycle. It's definitely the direction that we are pointing investors in and that's towards the commodities sectors."
Oriel Morrison:
"Morgan, a really interesting conversation. I really appreciate you joining us here on Stock Insiders today. Thank you so much for your time."
Morgan McGuire:
"Appreciate it. Thanks for having me."
Oriel Morrison:
"That is all we have time for for this episode of Stock Insiders with me, Oriel Morrison. Have a great day everyone, and we'll catch you next time.
This episode of the Stock Insiders podcast with me, Oriel Morrison, was sponsored by Barclay Pearce Capital, Australia's leading corporate advisory and equities trading firm. Barclay Pearce Capital provides specialised corporate advisory and equities trading services to privately owned businesses, small to medium sized public, and ASX listed companies."
To listen to the full Stock Insiders podcast, click here.