Local Biotech Aegros plans to shake up CSL's home turf
Our client Aegros is a local biotech company specialising in splitting plasma into proteins such as immunoglobulin and albumin, which are used to create therapies to treat a range of conditions including immune deficiencies. Aegros has recently been featured in an article by the AFR.
The company raised $5 million in a round led by Barclay Pearce Capital late last year.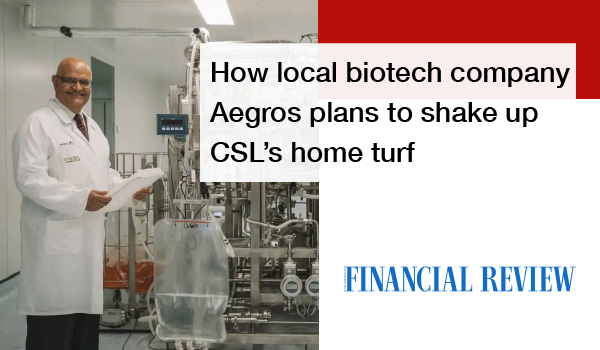 The article opens with a captivating statement;
"It's been a 30-plus year journey for small plasma fractionation biotech Aegros, but the COVID-19 pandemic and the resulting global plasma shortage have provided the catalysts it needed to gain commercial traction for its product."
According to the AFR, Aegros may be a start-up, but the company's technology is based on more than 30 years of work.
"The foundations for Aegros were laid in the late 1990s when Dr Hari Nair joined Dr Margolis' company, Gradipore, and applied this technique to plasma protein purification."
The article further highlights that over the next few decades, the purification technology evolved from Dr Margolis' initial invention to what is now known as ElectroSeparation – a process Dr Hari Nair, Executive Chairman of Aegros, says increases the yield on plasma fractionation substantially.
Dr Hari Nair says;
"Plasma fractionation hasn't really involved anything new since Edward Cohn invented the technology in the 1940s during World War II. This process was then developed and improved upon by many of the world's leading fractionation companies including CSL, which now uses chromatography at its Broadmeadows plant.

We have a chance to bring something really innovative into the plasma fractionation field. Currently the yields are pretty low and CSL are challenging scientists to come up with ways to produce higher yields. Our technology is close to double current yields."
With their focus on developing a hyperimmune solution for front-line healthcare workers, Aegros is on track to educate and prove that vaccines aren't the only solution for all COVID-19 scenarios.
Read the full Australian Financial Review article here.