Oneview Healthcare (ASX:ONE) - Trading With Barclay Pearce Capital
Every week we publish a collection of investment opportunities for our clients and give our expert opinion and analytics about the Equity Markets.
---
Looking for your next trade?
Today we are featuring a unique technology company focused on personalised patient experience. Health Tech will continue to be a focus of big tech for companies such as Apple, Google and Amazon. The global pandemic has seen significant growth in online and telemedicine need and acceptance.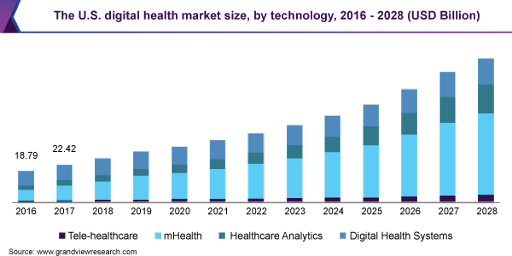 The U.S. Digital Health Market Size, by Technology, 2016 - 2018
"The global digital health market size was valued at USD 96.5 billion in 2020 and is expected to grow at a compound annual growth rate of 15.1% from 2021 to 2028."
---
Oneview Healthcare (ASX:ONE)

Oneview Healthcare (ASX:ONE) is a health tech company that provides hospital patients with a virtual end-to-end platform that enables them to extremely personalise their experience during their stay. An industry leader in Healthcare IT, ONE provides a digital care experience platform to 60 hospitals in four continents, with three of the top 20 hospitals situated in the USA.
Oneview is primed to capitalise on the digitisation of healthcare, as the global pandemic has encouraged the need for new virtual healthcare models. ONE's world-first cloud enterprise elucidates that fact, as its care-cloud base technology platform has come to fruition over a period of 12 years, with well over $100m of R&D invested, and constant scaling to the ever-changing needs of some of the most tech-centric sophisticated hospitals in the world. Now, ONE is uniquely positioned to capitalise on this seismic shift in the industry by being a first-mover in the need for new virtual models of healthcare.
ONE Q2Q growth looks very strong; the risk to reward currently makes sense at these levels.
"Oneview has appointed New SaaS sales leaders in both of its key markets and our direct sales force continues to actively target the most innovative hospitals in the world.", according to Oneview's 2020 annual report.
Highlights
Oneview managed themselves well despite the on-flow effects felt by COVID-19 they increased the number of live beds, dramatically reduced the cost base, and successfully conducted a share placement and entitlement offer which raised A$8.7 million (before costs).

Net proceeds of these issues are being used to accelerate the following:

Cloud development of the Group's Care Experience Platform, invest in additional sales.
Marketing skills across the USA and Australia.
Providing working capital to strengthen the Group's balance sheet to support growth and contract conversion with important customers.

ONE added three new hospitals to its client portfolio in 2020.

Two US-based hospitals, and the 135-bed Central Acute Services Building, which forms part of the Sydney Children's Hospital Network.

Oneview ended the financial year with its inpatient solution live in 9,259 beds, with a further 2,555 beds have been contracted however not installed yet.

Completion of the Company's transition towards a fully hosted SaaS cloud solution.
---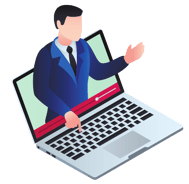 The Corporate Corner
Join 30-minute webinars with the chairman or CEO outlining their ASX, LSE or Nasdaq listed company performance followed by a Q&A session.
Where to from here?
Trading equities is all about having access to the right investment opportunities and making decisions based on accurate, unbiased information. Often, this means hours of research on a daily basis, keeping up with several ASX announcements, understanding economy-impacting events and regularly consuming broader news updates. If you're not an equities trader by profession, then it can quickly become rather overwhelming, especially once you have built a considerable-sized investment portfolio.
Our Equities Trading team, backed by our independent research department is the ideal solution for said situation. Our clients receive access to exclusive investment opportunities, daily ASX research reports, our expert weekly outlook on the Australian markets and direct access to our equity traders.
Trading with Barclay Pearce Capital is about building long-term returns, trust, confidence and a mutually beneficial relationship.

Chief Investment Officer

Director of Trading

Trading Operations
Manager

Equities Trader

Equities Trader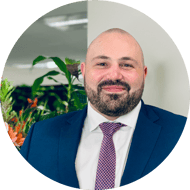 Trading with Barclay Pearce Capital ensures the needs of investors of all magnitudes are met by our highly skilled and attentive trading professionals.
~ Trent Primmer, Director of Trading, Barclay Pearce Capital.