Rates, Earnings & Recessions - Market Map with James Whelan
New job, new firm but the same Free Whelan. I thank you for your continued support. Speaking of support, on the 28th of November I'll be speaking at the Ensombl All Licensee Professional Development Day.
Link available here
and I look forward to seeing you there.
And so we go into another week with the world ending a little bit more. The tragedy in the Middle East continues and, combined with reporting and US economic strength, has caused a fair correction in markets.
Let's have a squizz at the technicals and see what they tell us.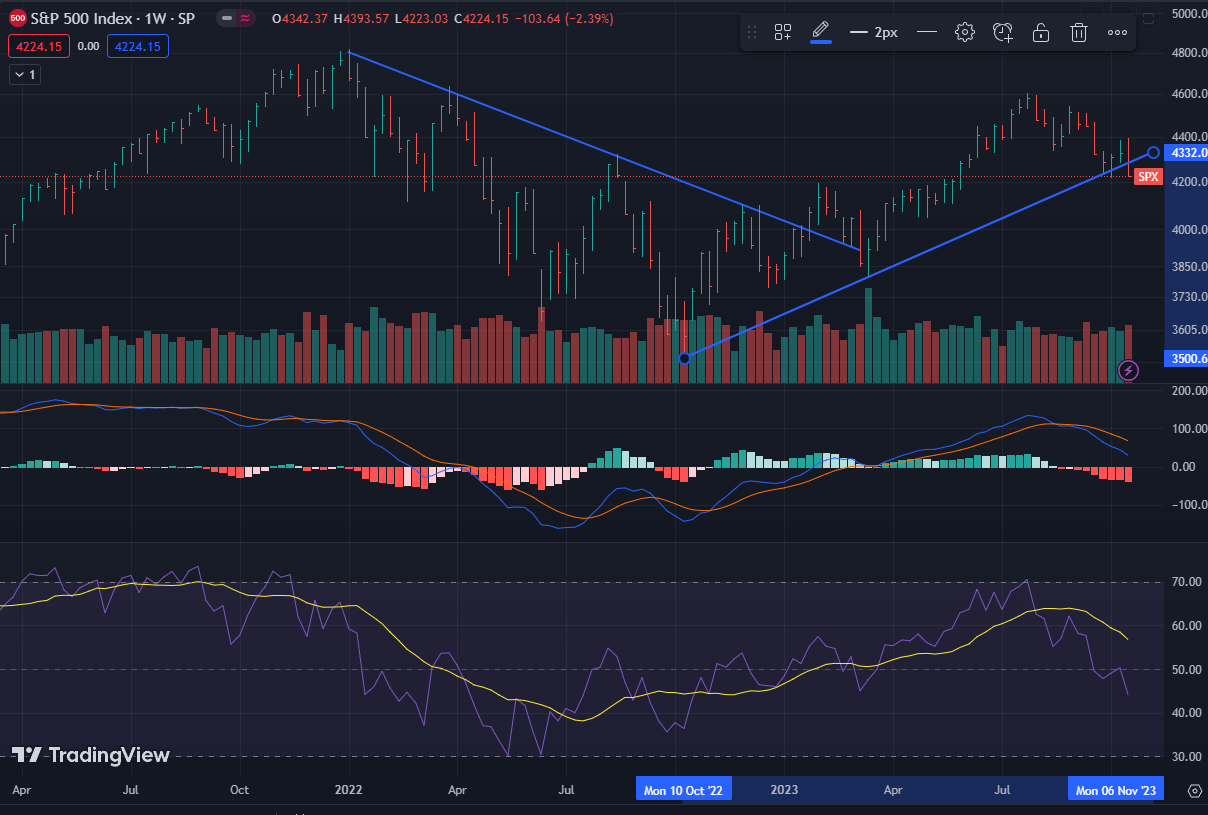 Source: TradingView
You can see from the chart above that on about the 21st of August is when the technicals rolled over on the SPX. Not only has support been broken but the MACD and RSI are both telling a story and that story is "not yet".
Remember that we want to be long-term holders of the market, so using peaks to sell and troughs to buy is the way forward.
As a default wait for the RSI (purple line bottom chart) to get down into the high 30s before you commit.
As usual always look at a zoomed out shart for reference: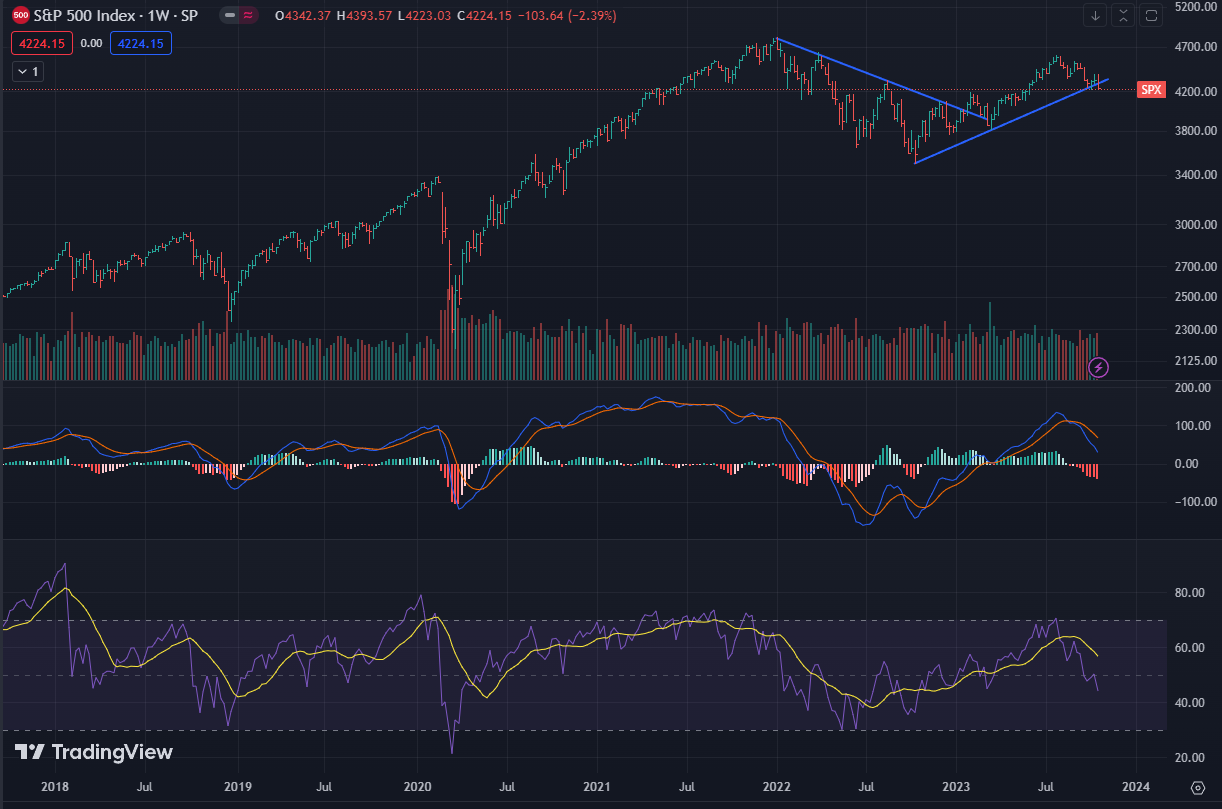 Source: TradingView
Long way to go.
A fair amount of this has to do with the 10-year yield now hitting 5%. That magic number that always represented the end of days.
I'm still very much a fan of higher rates (generally speaking) is it means risk can be priced better in portfolios (you don't have to make as much of a punt to return the same number) and also because it's a great way of weeding out the zombies.
Covid was meant to do that but no one was allowed to fail in Covid so now here we are 3 years later.
Earnings Reports
Earnings reporting is now in full swing and the analysts were massively over expectant on energy revenues and under bidders in Communication services.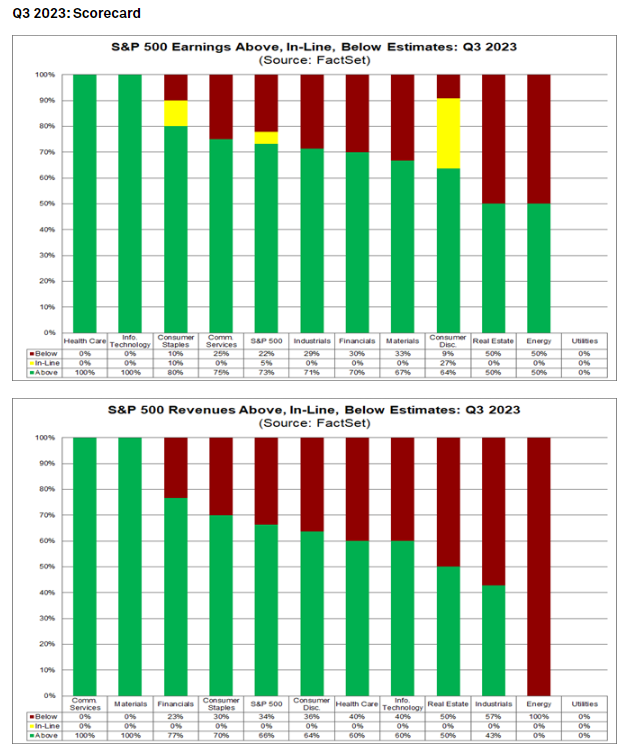 Source: FactSet
Whilst we're there, remember a few weeks back I said focus on the outlook because that will give you a better insight into the strength of the economy and therefore rate expectations.
Soft landing/no landing = higher rates = something breaks.
This chart tells you everything. Number of companies mentioning "recession" on the earnings calls.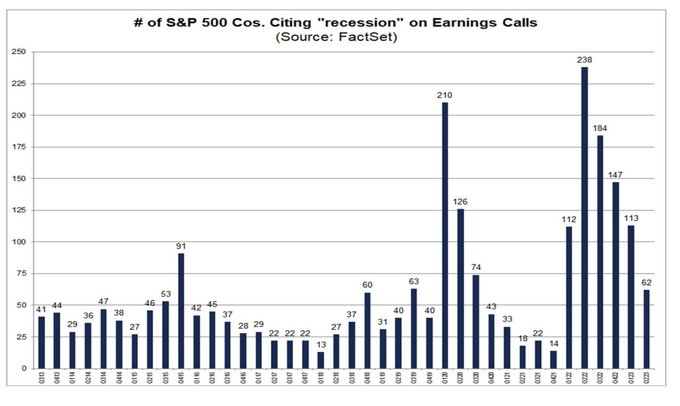 Source: FactSet
Lowest since Q42021
This matches comments by the Fed that the economy is doing better than anticipated.
Act accordingly.
Two more things before I go. The RBA will meet on the first Tuesday of November and it will be a "live" meeting.
I will go out on a limb and predict 25bps of hikes but that's only because the new Governor needs to prove a point about how serious they are about getting inflation back down.
This is interesting. This fellow at the below link has been tracking US house sales and who is linked to them. Remember the big scandal over the last few years has been about the volume of houses being bought by Private Equity, shutting many first home buyers out of the market?
Well it looks like the rates are high enough and rents are low enough to reverse that.
That's all for now with a big week ahead.
Stay safe and all the best,
James
---