Resources and Energy Group (ASX: REZ) - Trading with Barclay Pearce Capital
Every week we publish a collection of investment opportunities for our clients and give our expert opinion and analytics about the Equity Markets.
---
Looking for your next trade?
With the price of gold breaking out of a flag pattern, we are seeing gold juniors share price's move to track this uplift. However, there is still a handful out there that are yet to reap the rewards.
Today, we are talking about Resources and Energy Group (ASX: REZ).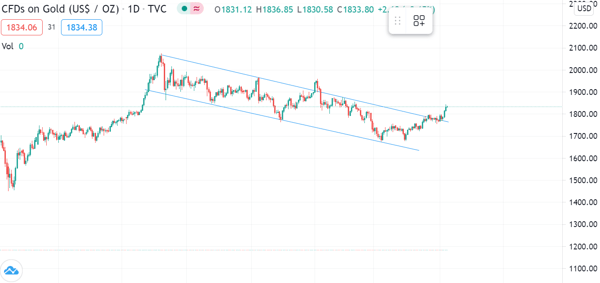 ---
Resources and Energy Group (ASX: REZ)
REZ is a junior explorer with two projects in Western Australia & Queensland comprising both Gold and Silver.
REZ's flagship project, "East Menzies Project", announced exceptional results from its drilling program. East Menzies is situated 130km north of Kalgoorlie and REZ holds a land package upwards of 100km2.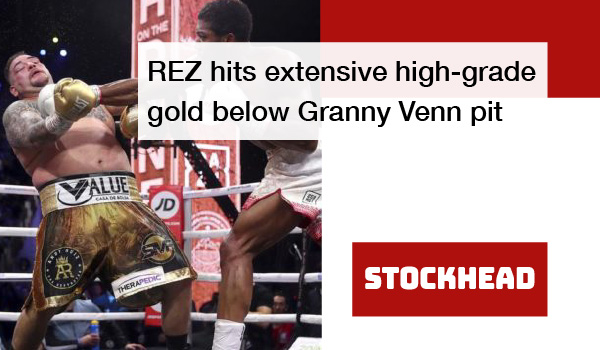 Exceptional results from Grade Control Drilling at Granny Venn
Initial results from the March 2021 Granny Venn resource drilling program have been received.
High-grade and extensive intervals of gold mineralisation have been intersected below the pit floor at Granny Venn with peak assays of:

21EMRC33 -

9m@3.73gt/au, from 17m, including

1m@12.6gt/au from 25m.
21EMRC38 -

10m@5.12gt/au from 13m, including

2m@14.5gt/au.
21EMRC40 -

22m@3.02gt/au from 2m, including

7m@5.56gt/au from 17m.
21EMRC56 -

12m@3.69gt/au from 11m, including

1m@15.35gt/au from 19m.

The grade from these results is higher than modelled and has exceeded expectations.
A Mining proposal and Clearing permit to enable recommencement of operations have been lodged.
Discussions with regional gold mills are also well advanced to facilitate the commencement of mining.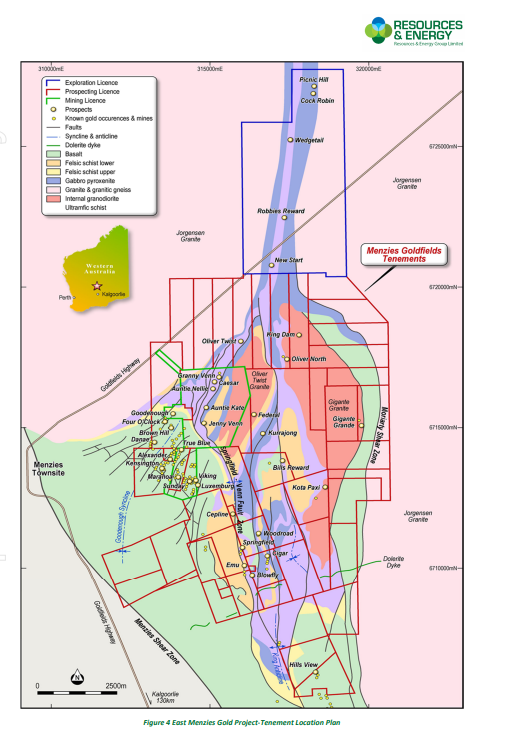 The results received from Granny Venn were unexpected and indicated gaps in the previous owner's, Money Mining, drilling campaigns.
It is said that Money Mining did not drill deep enough to intersect the mineralisation in 1998 and REZ are now reaping the reward for high-grade hits.
These said results allow its current JORC 2021 MRE resource of a total of 42.7koz to be upgraded.
The next steps for REZ will be to receive all the remaining assay results and update the current resource model. Subsequently, mine planning work will commence.
A mining proposal for the development has also been lodged together with an application for a clearing permit, which will be advertised in early May.
Grade control drilling on the Granny Venn open pit also has commenced.
The current resource has been estimated at 3.42Mt @ 1.18g/t gold and 9g/t silver for a total of 129koz gold and 862koz silver.
Trading at a market cap valuation of $16 million and with resource estimates of such significant size, REZ's lack of exposure and the general misunderstanding of its project potential has resulted in it being arguably undervalued in relation to its peers.
---
REZ has a tight capital structure with the top 20 holding shareholders controlling approximately 58.9% of the total shares on issue. This mainly comprises individuals and directors of the company with skin in the game.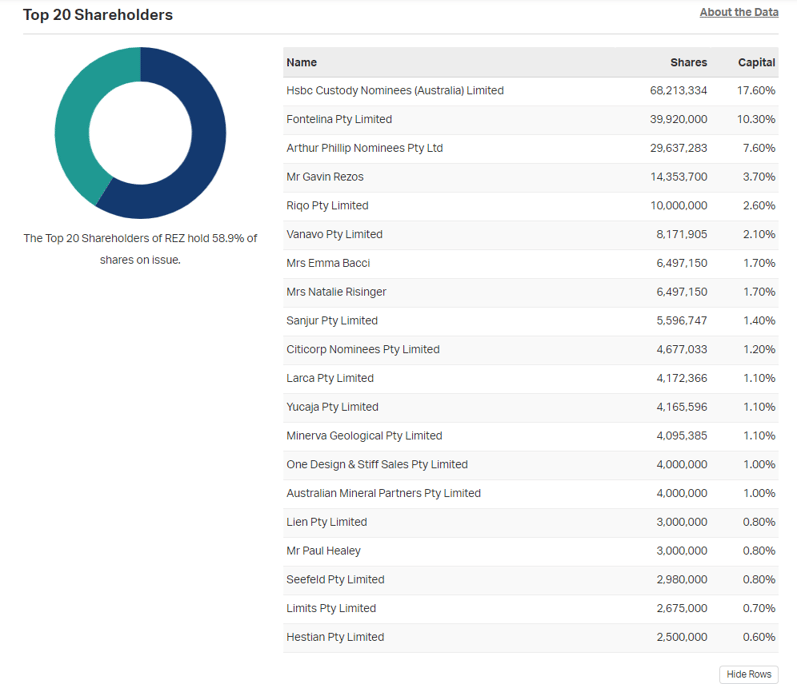 Resources and Energy Group (ASX: REZ) Share Price Update - 10 May 2021: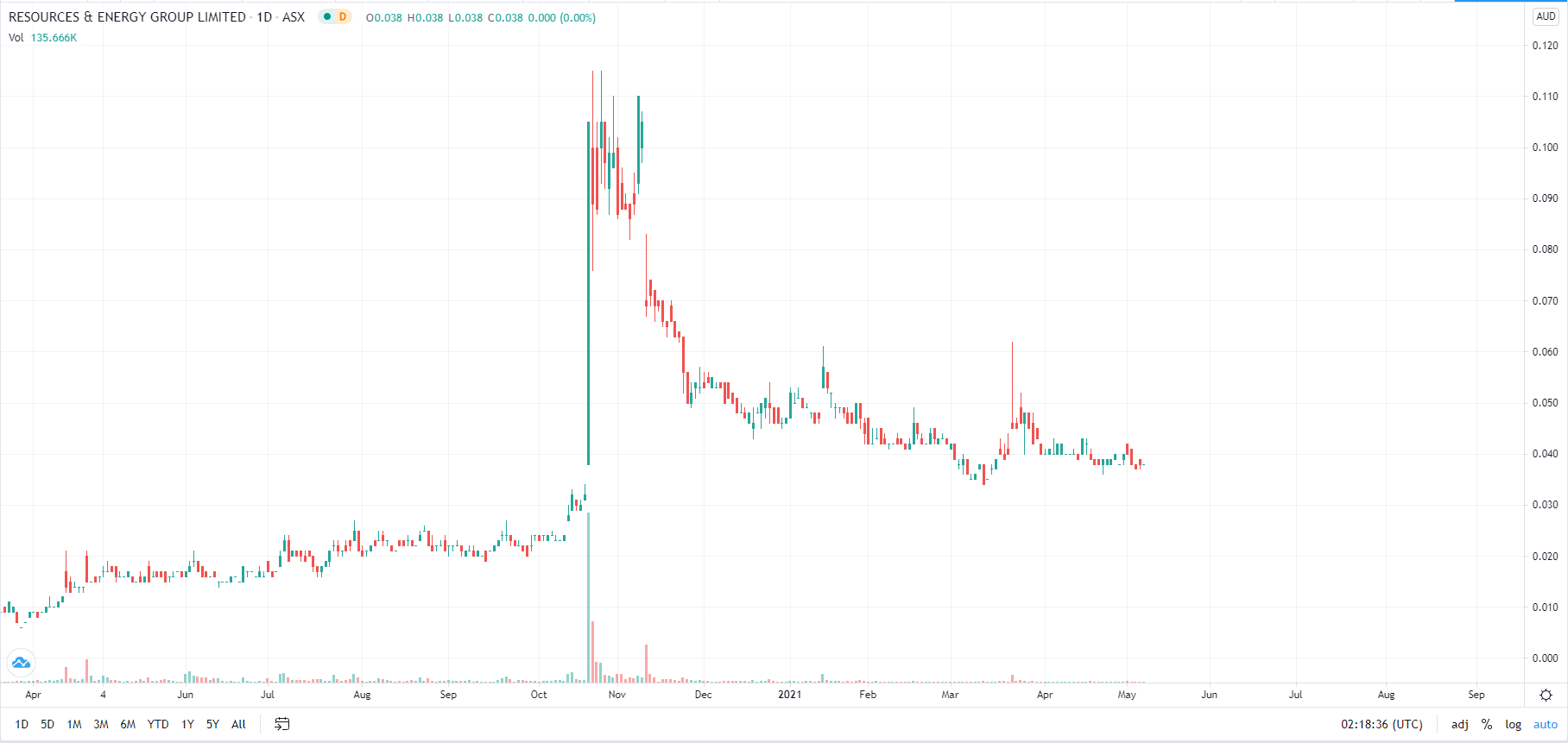 The share price has taken a dive since November last year when FOMO left the stock and the high-grade resource required drilling and exploration.
Currently, the price is stable at this level and has entered a consolidation or accumulation zone whilst awaiting further announcements from the Company.
Where to from here?
Trading equities is all about having access to the right investment opportunities and making decisions based on accurate, unbiased information. Often, this means hours of research on a daily basis, keeping up with several ASX announcements, understanding economy-impacting events and regularly consuming broader news updates. If you're not an equities trader by profession, then it can quickly become rather overwhelming, especially once you have built a considerable-sized investment portfolio.
Our Equities Trading team, backed by our independent research department is the ideal solution for said situation. Our clients receive access to exclusive investment opportunities, daily ASX research reports, our expert weekly outlook on the Australian markets and direct access to our equity traders.
Trading with Barclay Pearce Capital is about building long-term returns, trust, confidence and a mutually beneficial relationship.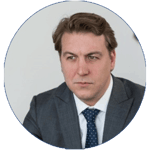 Chief Investment Officer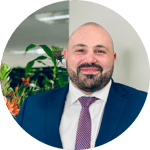 Head of Trading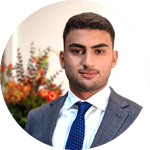 Equities Trader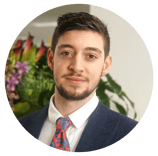 Equities Trader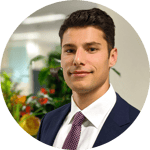 Equities Trader

Equities Trader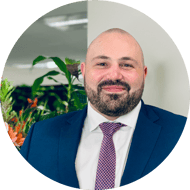 "Trading with Barclay Pearce Capital ensures the needs of investors of all magnitudes are met by our highly skilled and attentive trading professionals."
~ Trent Primmer, Head of Trading, Barclay Pearce Capital.