ABSI - The Ripple Effect: Weight Loss Drugs Reshaping Industries
Every

Tuesday afternoon we publish a collection of topics and give our expert opinion about the Equity Markets.
The ripple effect is a fascinating and powerful phenomenon. The world is riddled with great examples of an initial disturbance propagating outward to disturb increasingly larger portions of the system. The rise of popular new weight loss drugs, such as Ozempic and Wegovy, is the latest stone to disturb the pond. Initially the effects were felt with the creator of these products but the success of the drug is starting to ripple into other industries for better and for worse. This week ABSI will explore these ripples.
For Danish pharmaceutical maker Novo Nordisk A/S, what began as a diabetes drug called semaglutide has morphed into a global weight loss fad. Semaglutide is a GLP-1 receptor agonist that can act as a hunger and appetite suppressant resulting in the consumption of fewer calories, the loss of body weight, and therefore better blood sugar management. From this active ingredient Novo Nordisk developed two drugs to tackle Type 2 diabetes and obesity - Ozempic and Wegovy.
Although the drugs were initially approved as prescription only, in the US and some other regions they're available for private purchase. It wasn't long before the rich and famous caught onto the weight-loss benefits with the likes of Kim Kardashian speculated using Ozempic to fit into a Marilyn Monroe dress for the Met Gala this year.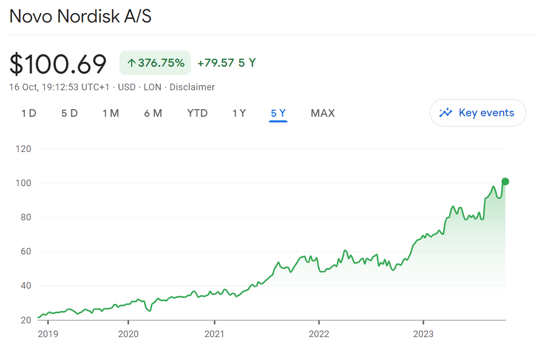 Source: Google Finance
The drugs went viral and it sent a rocket up the share price of Novo Nordisk, quadrupling over the past five years to usurp LVMH as Europe's most valuable public company. Its ~£327 billion market capitalisation makes it bigger than the whole Danish economy. This has resulted in investors speculating on the future weight-loss drugs with the likes of Eli Lilly & Co. and WW International Inc. both experiencing strong share price action so far this year due to their exposure to the segment.

Obesity is a global epidemic in the developed world with an estimated 45% of the US population classified as obese and 70% as overweight. Therefore, the potential market size for a weight-loss wonder drug would be huge for drugmakers.
Adult Obesity Prevalence Map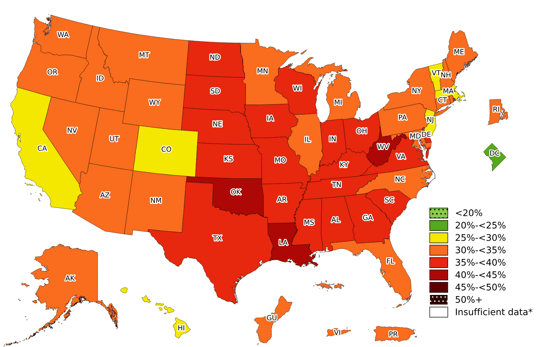 Source: CDC
But what are the ripples that a thinner society would have on consumer behaviour?

We're already starting to see the answer to that question. In an interview earlier this month, Walmart executive, John Furner, revealed that Ozempic and Wegovy were causing customers to buy fewer groceries. This disclosure has seen price weakness across a range of food and beverage stocks such as Pepsi, Coca-Cola, Hershey, and Mondelez.

At home in Australia the market isn't immune. ASX-listed companies ResMed and CSL are falling victim to the "Ozempic-effect". As a maker of sleep apnea devices, a slimmer world is a headwind for ResMed. Meanwhile the reason for CSL being drafted into the basket of losers is because Ozempic has produced positive results in kidney disease which has the potential to impact ~15% of CSL's business through their kidney dialysis business unit.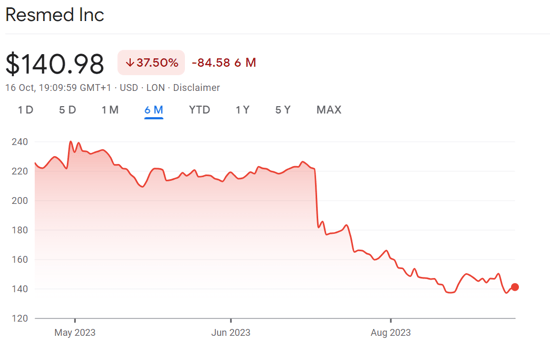 Source: Google Finance
Importantly, not everyone is a loser, a number of industries are being identified as benefactors of the trend. Outside of the drugmakers, airlines will benefit from lighter customers with analysis on United Airlines calculating an estimated US$80 million saving for every 10 pound reduction in passenger weight due to lower fuel costs. Apparel is another industry set for an Ozempic boost as rapid weight loss will result in the need for new wardrobes. Long-term effects could be cost savings as the need for less fabric grows. Brands such as Nike and Lululemon are likely benefactors and have seen resulting share price tailwinds.
The early results from these drugs appear to be having a net positive effect but there is still a lot of unknowns on the long-term impact of overall health. Some experts cite concerns for patient gut health while it has been reported that Wegovy patients experience severe nausea and diarrhoea. Personally, I am sceptical of a magic diet pill that will eliminate obesity and do have concerns about the long-term effects on patient health. My intuition is that this is a passing fad and investors should be wary of rushing into investment decisions based on the headlines.
---
We offer value-rich content to our BPC community of subscribers. If you're interested in the stock market, you will enjoy our exclusive mailing lists focused on all aspects of the market.
To receive our exclusive E-Newsletter, subscribe to 'As Barclay Sees It' now.