Barclay's bull or Pearce take? Why there's 'a fair bit of uncertainty' on the ASX, despite strong FY21 profits
Each Friday, we highlight the key trading themes of the week, along with companies and sectors investors should be keeping their eye on.
We're excited to announce our weekly segment published in collaboration with Stockhead.
As part of the weekly recap for Stockhead, our Director of Trading, Trent Primmer, was interviewed to share some trading highlights of the week.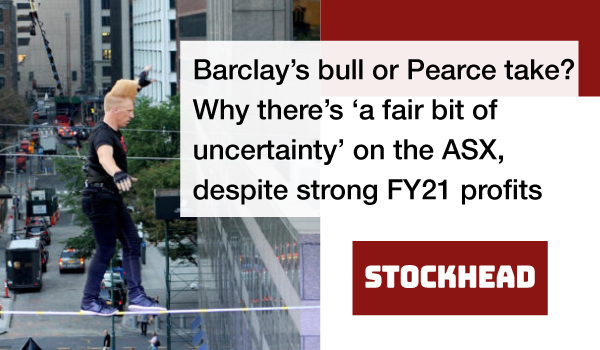 By and large, ASX companies have presented robust full-year earnings results in August reporting season, with some healthy dividend payments at the big end of town while bad misses have been few and far between.
But with markets at all-time highs in the wake of a post-COVID bull market, Trent says strong profits aren't a guarantee of upward re-ratings, with valuations in some areas already looking stretched.
---
While profits are one part of the story, investors are also looking for clues in forwarding guidance, and that's where Primmer says "a fair bit of uncertainty" has crept into the market.

"
I think it's going to be harder to outperform over the next 12 months, and a lot of that comes down to valuations and where the market is overall.

Frankly, it's very high. So while companies are reporting strong earnings, the question is already becoming how long they can keep it up for?

"

- Trent Primmer, Director of Trading

Trent said:

"No one knows how long the issue with Delta will be, and we're not seeing the broad level of fiscal stimulus we saw last year either which also adds some uncertainty."

Taking a closer look at reporting season, Primmer said that some of that uncertainty has been reflected in specific company announcements.
---

A good example was maternity and baby goods retailer Baby Bunting (ASX:BBN), which declared a higher dividend and posted a 76% rise in full-year profits, only to get sold off sharply.

"The ASX is so high and company valuations are trading on higher multiples. So even if they only just miss expectations or there's something negative in their outlook, this isn't really the market for any kind of uncertainty,"
- Trent Primmer, Director of Trading
Perhaps reflecting that sentiment, banking heavyweight CBA edged higher on the day of its full-year results (August 11) but has since posted four straight falls of more than 1% to fall back below $100 in Tuesday trade.
Taking the broader risk outlook into account, Primmer said that for the foreseeable future, the Barclay Pearce portfolio will be structured around commodities — in line with the firm's central 2021 investment thesis.

"

I do think the China demand thematic adds an element of risk to the commodities sector. But it's still the space where I see the most value over the next 12 months, relative to any other sector."


- Trent Primmer, Director of Trading

Healthcare is his next best bet, given that it's a sector which usually holds up well in a market slowdown.

Trent said:

"I'd be wary of anything that trades on very high multiples.

It's a tricky market for us to assist in structuring client portfolios over the next 12 months because in some areas we just don't know, but I'd rather err on the side of caution."

"We've still got exposure to gold as that inflation hedge which I've discussed before. And elsewhere, the focus is on components tied to the EV/clean energy thematic — nickel, copper, lithium and rare earths — I'd be aiming for those commodities in particular."
- Trent Primmer, Director of Trading
To read the full Stockhead's article, click here.
---
Trading equities is all about having access to the right investment opportunities and making decisions based on accurate, unbiased information. Often, this means hours of research on a daily basis, keeping up with several ASX announcements, understanding economy-impacting events and regularly consuming broader news updates.
Our Equities Trading team, backed by our independent research department, is the ideal solution for said situation. Our clients receive access to exclusive investment opportunities, daily ASX research reports, our expert weekly outlook on the Australian markets and direct access to our equities traders.