H2X Global enters partnership with KTM Technologies
H2X Global Limited has recently announced that it has partnered with technology developer, KTM Technologies to create a revolutionary, innovative, lightweight and inexpensive vehicle chassis.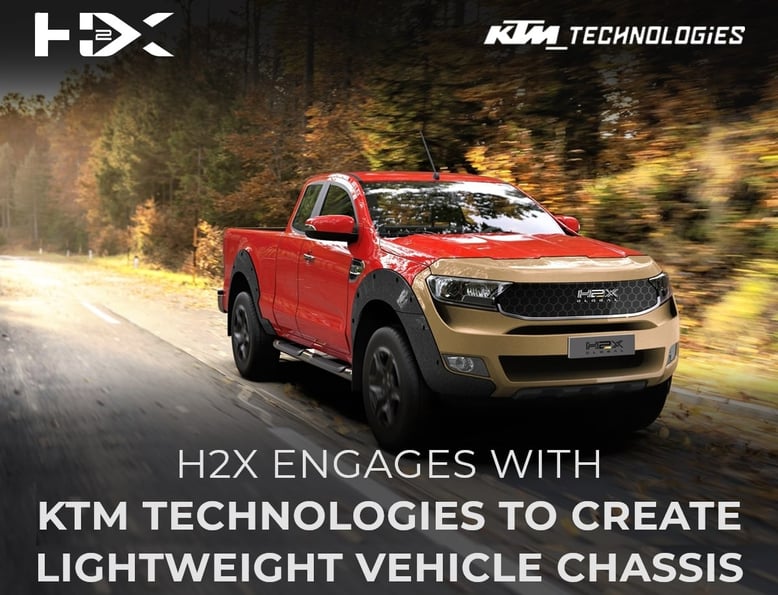 The team at H2X will work together with KTM Technologies in designing and developing their vehicle chassis and construction programs.
The recent announcement from H2X to build its hydrogen fuel cell vehicles in Gippsland, Victoria cements a significant step in the Company's journey in becoming a global leader in hydrogen vehicle manufacturing.
H2X CEO Brendan Norman says:
"Our partnership with KTM Technologies is a major milestone in establishing ourselves as a global premium hydrogen vehicle manufacturer."

"
By leveraging the resources of a company with unparalleled capabilities such as KTM, we are not only securing our own future but the development of an internationally competitive industry based in Australia.

"

Brendan Norman, CEO, H2X Global

This partnership showcases the Company's ability to work with innovative, world leading brands like KTM. Momentum is building ahead of H2X's planned major stock exchange listing as the Company continues to form tangible, strategic partnerships.
H2X and KTM will also be working together on several other projects such as an exciting Motorsport Venture involving hydrogen. Keep an eye out for the announcement in the months ahead.
---

H2X is an automotive and power unit company focused on absolute sustainability. The company is focused on harnessing the most efficient and effective technologies, with the onus on capturing free and renewable energy sources. A specialisation in hydrogen is the basis of H2X's growth, however with a strong platform as a maker of electrically powered vehicles, the company has a versatile approach to finding the right vehicle for the right task. H2X Global has operations in Australia, Malaysia, India, and throughout Europe.
To learn more about H2X Global, or the hydrogen sector as a whole, subscribe to the Company's Chairman's List below.