Resources & Energy (ASX:REZ) - More Nickel at Menzies, Peak Historic results of 12m @1.22% and 7m @1.46% Ni

More Nickel at Menzies, Peak Historic results of 12m @1.22% and 7m @1.46% Ni
---
Resources & Energy Group Limited (ASX:REZ or the Company) are pleased to provide an update for ongoing Nickel investigations at the Springfield and Cepline Prospects.
Further research by the Company has identified additional mineral exploration results at the Cepline Prospect which support the initial findings of Nickel mineralisation by BHP in 1986.

12m @1.22% Ni,

0.2% Cr, 775ppm Co and 0.22% Zn

from 2m

down the hole (MZ801) and

Air Core drilling by Proto Resources in 2008 reported a peak assay of:
9m @ 1.08% Ni,

0.22% Cr, 690ppm Co and 0.63% Zn from 1m (MZ811)

Earlier RAB drilling by Great Australian Resources (GAR) in 2004 also reported a significant interval of:

7m @ 1.46% Ni from 16m

within a total of 29m @ 0.8% Ni, from 11m down the hole, (CNRC1)

Significantly, the bottom of hole assays for the GAR drillholes terminated in bedrock zones with high Nickel content including 15m @ 0.13% Ni from 82m down the hole (CNRC02) and 14m @ 0.06% Ni from 82m down the hole (CNRC01)

These additional results support the view that the ultramafic rocks along the Springfield side of the East Menzies project area are prospective for nickel sulphides.

The Company is undertaking further research towards developing a suitable exploration program to investigate the mineral-bearing potential of the area
---
Discussion
The Springfield area was identified by the Company following a review of historical exploration and
gold mining activities. The documented occurrences of sulphides north of Springfield at Cepline are prospective features for the occurrence of volcanogenic nickel and base metal deposits as well.
The Springfield area comprises three suites of volcano‐sedimentary rocks which includes.
Upper Mafic – High Mg Basalts
Sedimentary‐ Pyritic Chert, slate, banded amphibolite, fuchsite, tuffaceous metasediments
Lower Ultra Mafic ‐ Meta komatiites (tremolite, actinolite, Talc, chlorite)
A literature search of open file Wamex records over the prospect area indicated that significant values of Nickel were reported by BHP Mineralsfrom the Cepline Prospect, during a gold exploration program in 1986, (Report ID A19328).
The peak results for the BHP drilling were reported for RAB drill hole JR011, one of 4 vertical holes
completed by the Company in 1986 over the Cepline prospect in a single line across the Springfield Fault.
JR011 included 3m @1.53% Ni from 15m and 3m @ 2.27% Ni from 31m. Accessory minerals in JR011 included 22m @ 0.29% Zn from 14m, 8m @0.29% Pb from 5m, 2m @ 0.15% Co from 31m and 36m @0.4% Cr from surface. The high Chromium content was attributed to Fuchsite, which is believed to be derived from hydrothermal alteration of an underlying sequence of Komatiite lavas. Fuchsite has been locally quarried in the area for specimen samples.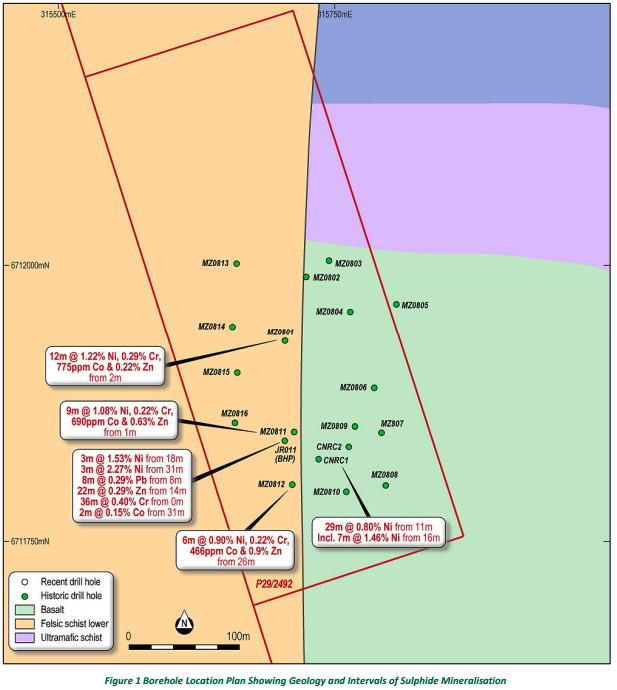 The Company is undertaking further research towards developing a suitable exploration program over this part of the project area. This research work has identified additional exploration results within the Cepline Prospect which are relevant to understanding the nature and prospectivity of the area, as follows:
In 2004, Great Australian Resources Ltd followed up the nickel sulphide target at the Cepline Prospect drilled by BHP. Two holes were completed (CNRC01, and CNRC02). This work returned a peak assay result of 7m @ 1.46% Ni from 11m down the hole including 1m @ 2.0% nickel from 16m down the hole (CNRC1).
During 2008, Proto Resources completed a 16‐hole Air Core program over Cepline, again with emphasis on the earlier BHP and GAR drilling results. Four of the Proto Holes intersected significant intervals of mineralisation with best down the hole results of:
MZ0801‐ 12m @ 1.22% Ni, 0.29% Cr, 775ppm Co and 0.22% Zn from 2m
MZ0811‐ 9m @ 1.08% Ni, 0.22% Cr, 690ppm Co and 0.63% Zn from 1m
MZ0812‐ 6m @ 0.90% Ni, 0.22% Cr, 466ppm Co and 0.69% Zn from 26m
The location of these drill holes is shown on Figure 1. Complete detailsincluding collar and assay results for these drilling results are presented in the accompanying table 1. The supporting JORC 2012 Table 1 check list is provided in appendix 1 of this release.
The exploration report completed by Proto (Wamex Report ID A082168) indicated that mineralisation occurs in saprolite developed over the Lower Ultra Mafic tremolite Schists (Suite III). The mineralisation remained open to the south but possible strike extensions in that direction could not be investigated by Proto due to tenement boundaries which restricted further exploration in that direction. A project‐scale VTEM program was proposed by the Company to test for potential bedrock and laterite conductors within the mafic‐ultramafic facies, however, this work was never carried out.
The results obtained by Proto were attributed to nearsurface enrichment of Nickel and/or preferential weathering along structural pathways. However, the results obtained by GAR, which drilled much deeper, encountered bedrock intervals which also have very high concentrations of Nickel which peak at 1m @ 0.26% Ni from 85m which occurs within a broader interval of 15m @ 0.13% Ni from 82m. This result suggests that the ultramafic rocks at depth are themselves enriched in Nickel and present a larger Nickel sulphide target for the Company to investigate.
Read the full announcement here.
---
To keep up to date with their news and progress, and for more information about gold mining as a whole, subscribe to the Resources & Energy Group's Chairman's List.